A Blue BMW M3 GTRS3 by Vorsteiner
Vorsteiner's GTRS3 program for the BMW M3 Coupe is not really something that came out yesterday – it's been around for almost two years now. However, it sill is hot by today's standards and the latest proof of that is what we see here – a matte blue GTRS3 M3 having a photo shoot in Taiwan and generally gaining popularity.
The program is mainly visual and consists of a widebody kit – front and rear bumpers (rear end diffuser included), flaring wheel arches and extended side skirts, all made from carbon fiber, adorn the M3. The hood and bood lid have been completely replaced and some piping has been done as well. All summed up, as an end product, it is a flashy looking thing with its big air scoops everywhere, its asphalt grinding stance and its taunting stainless steel quad exhaust system.
As a round up element, the wheels have been changed as well. It's the twin 7-spoked, three piece Concave Forged Mesh wheels from Vorsteiner's V-308 line. Sizes come in both 19 and 20 inches.
For how long are the Vorsteiner people going to rely on it? Although, with those looks, its hard to give it up as a portfolio car.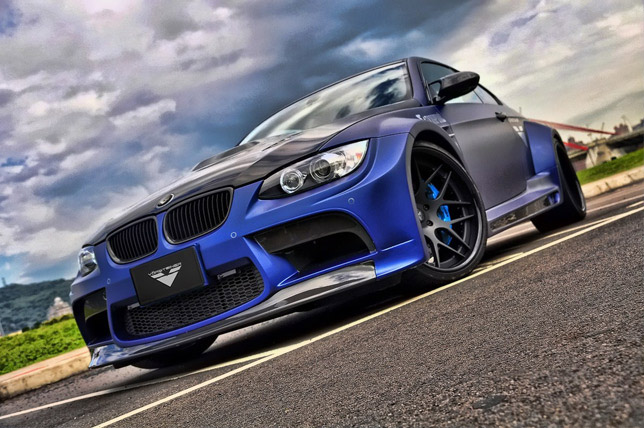 Source: Vorsteiner