Contrast is Everywhere. Including Vorsteiner BMW M3 E92

Vorsteiner decided to make some magic to the BMW M3 E92 model. The particular car they have worked with comes in the classic Alpine White exterior color, so they had the opportunity to create a stunning contrast with a few additional details and parts. And it seems that although each of these elements individually stands out, when brought together they create a result that is just right as if it was always meant to be.
Vorsteiner Body Kit
'Contrast' could be a synonym to Vorsteiner's body kit for the white M3. The opposite colors contribute for even more aggressive look of the vehicle. Precisely, it comprises of an in-house made boot lid as well as GTS7 front bumper and GTS-V rear diffuser. In this way, the sporty appearance is ensured as is the better aerodynamics.
SEE ALSO: Vorsteiner BMW M4 Gets EVO Aero Kit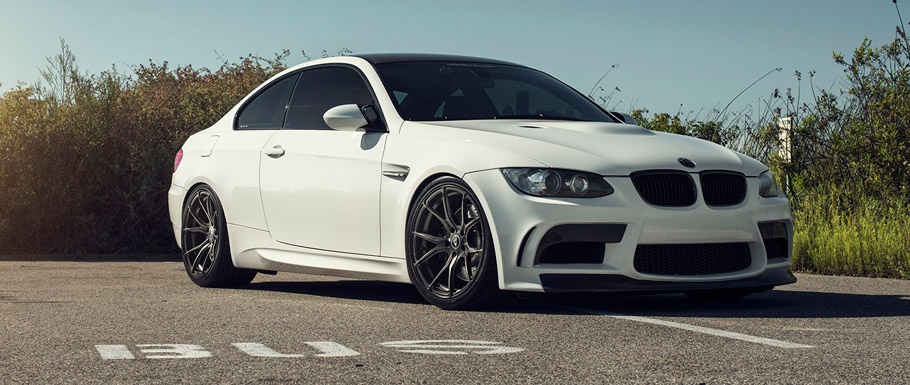 Vorsteiner is also famous for its one-off design for the wheels it produces. Of course, they also come in black (Mystic Black to be more precise) and measure 19x9.5 and 19x10.5 inches. Under the name VFF-103, they play their role wrapped in 275/30/19 and 295/30/19 tires. It seems that opposites really do attract.
Power and Torque
Unfortunately, as much as we like this E92, Vorsteiner did not enhance the power of the mighty V8 under its hood. But if you take a deep thought then you would definitely wonder why is the uprating necessary? It isn't of course, because the high-revving 4.0 litre V8 engine produces 420 hp (309 kW) at 8300 rpm and 400 Nm (295 lb-ft) at 3900 rpm! This helps the car accelerate from 0 to 100 km/h in 4.8 seconds on its way to a top speed of 250 km/h (155 mph). Without the limiter, E92 M3 can easily go beyond the 300 km/h (186 mph).
Source: Vorsteiner