Brand new Caterham Superlight R300 to return in 2009
Caterham's famous 'Superlight' family is now complete with the British manufacturer releasing details of a new generation of its Superlight R300.
Following in the rear tyre tracks of the motorsport derived R400 and R500, the latest Seven punches from 0-to-60mph in 4.5 seconds courtesy of a new 2.0-litre Ford Duratec engine, tuned by Caterham Powertrain (CPT) to deliver a responsive 175bhp.
Originally launched in 2002 and fitted with a Rover engine, the previous R300 was Caterham's best-selling Seven thanks to an addictive character fuelled by its perfect blend of performance and driving pleasure. The new Ford-powered model builds on this platform with increased engine performance and chassis developments, all whilst retaining the R300's winning personality.
The latest 515kg interpretation of Colin Chapman's famous 'lightweight minimalist' philosophy beautifully balances power and chassis to perfection, delivering an impressive 339bhp-per-tonne.
Among many developments, the new R300 benefits from styling cues and technical evolutions first seen on its 'big brother' – the explosive Superlight R500 – with the addition of a similar flush button dash design and keyless ignition system, fitted as standard.
Amongst a wide range of optional extras, hardened enthusiasts will also be able to add Stack data logging instrumentation, a dry sump oil system and, for track-day regulars, a limited slip differential.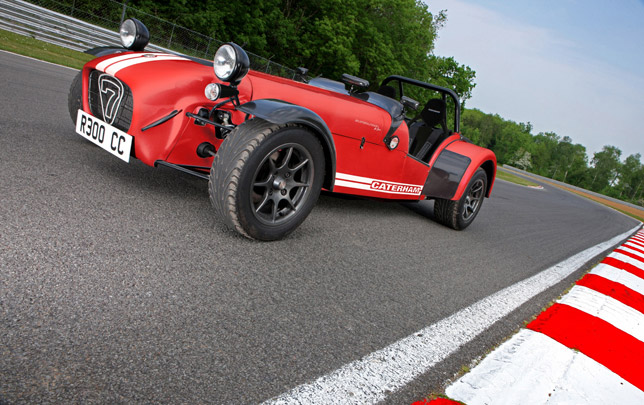 Translated through Caterham's proven 6-speed gearbox, the 2.0-litre powerplant's 175bhp and 139 lbs-ft of torque is able to spin the R300's bespoke Avon CR500-shod Superlight aluminium wheels to a top speed of 140mph.
With more power, more torque and more immediacy, the Superlight R300 will start at £24,995 in component form and £27,995 factory built with delivery starting in spring 2009.
Further expanding the range to offer customers a wider range of choice is the addition of another new Seven – the Roadsport 175.
Despite being fitted with the hugely capable Series 3 chassis and utilising the same 175bhp, 2.0-litre Caterham Powertrain (CPT) Duratec engine fitted to the R300, the new Roadsport is aimed at drivers largely focused on B-Road blasts and touring.
The Roadsport trades its more track focussed features, such as lashings of carbon fibre and track-biased suspension and brakes, to come fitted with weather equipment and a heater as standard. Other differences to the R300 include a 5-speed gearbox with longer ratios and 14-inch alloy wheels.
The new Roadsport 175 model bolsters the incredibly popular Roadsport range alongside the 1600cc Ford Sigma driven 125 and 150 – numerically reflective of their respective power output.
Prices for the Roadsport 175 start at £21,995 in component form and £24,995 for factory built.
Both the R300 and Roadsport 175 are available in a SV 'wide chassis' version, costing an additional £1,750.
The Headline Numbers
Caterham Superlight R300 – from £24,995
| | |
| --- | --- |
| Powerplant | 2.0-litre Caterham Powertrain (CPT) Duratec |
| Max Power (bhp/rpm) | 175bhp @ 7000rpm |
| Max Torque (lbs ft/rpm) | 139 lbs-ft @ 6000rpm |
| Weight | 515kg |
| 0-60mph | 4.5 seconds |
| Power-to-weight | 339 bhp-per-tonne |
| Top Speed | 140mph |
Caterham Roadsport 175 – from £21,995
| | |
| --- | --- |
| Engine | 2.0-litre Caterham Powertrain (CPT) Duratec |
| Max Power (bhp/rpm) | 175bhp @ 7000rpm |
| Max Torque (lbs ft/rpm) | 139 lbs-ft @ 6000rpm |
| Weight | 550kg |
| 0-60mph | 4.8 seconds |
| Power-to-weight | 318 bhp-per-tonne |
| Top Speed | 138mph |
Caterham Superlight R300 Specification
Standard equipment
2.0-litre Caterham Powertrain (CPT) Duratec engine

6 Speed Caterham gearbox

Superlight Suspension (wide track front and de Dion rear with Watts linkages)

Carbon fibre dashboard

Carbon fibre aero whiskers

Carbon fibre front wings

Superlight switchgear

Ventilated front brake discs with Quad piston callipers

15" Superlight alloy wheels with Avon CR500 tyres

Composite wind deflector

Four-point Harnesses

Quick-release Momo Steering Wheel

Keyless ignition

Immobiliser

Composite seats

Black pack
Optional
ACES change-up lights

Lowered floors

Limited Slip Differential

Dry sump oil system

Weather gear

Leather seats

Trackday roll bar

Carbon fibre nose cone

Carbon fibre rear wings

Data logging Stack Dash instrumentation

Heater

Track day roll bar

Battery Master Switch

Interim Catalyst bypass pipe*

Full roll cage
*Track use only
Transmission Close Ratio 6 Speed 1st: 2.69:1 2nd: 2.01:1 3rd: 1.59:1 4th: 1.32:1 5th: 1.13:1 6th 1.00:1 Final Drive: 3.62:1
Suspension Front:   Adjustable double wishbone with roll bar Rear:    De Dion axle located by lower A-frame and Watts linkage
Brakes Twin circuit split front/rear with low level warning system. Discs front and rear
Steering Rack and pinion, 1.93 turns lock to lock
Wheels and Tyres Front 7J x 15" Rear 7J x 15" Superlight aluminium wheels with Avon CR500 tyres.