Bugatti Veyron 16.4 Grand Sport Vitesse Meo Costantini at 2013 Dubai International Motor Show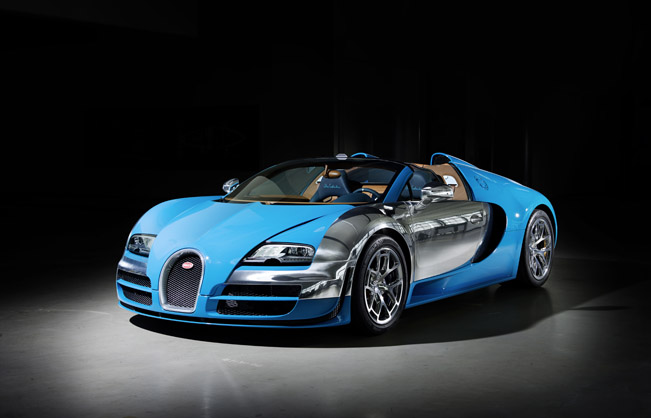 Bugatti has announced a new special edition Veyron 16.4 Grand Sport Vitesse. It's name is Meo Costantini and it will be introduced at the 2013 Dubai International Motor Show.
The series of Bugatti Legend cars, "Les Légendes de Bugatti", was launched in August at California's Pebble Beach Concours d'Elegance with the Vitesse "Jean-Pierre Wimille". This was followed by the Legend car, "Jean Bugatti", which was presented at the International Motor Show in Frankfurt and now, the third Legend Edition, dedicated to Meo Costantini is introduced.
Bugatti Grand Sport Vitesse is powered by an 8.0 liter W16 quad-turbo engine – 1200HP (883 kW) and 1500Nm (1106 lb-ft) of torque. The engine is connected to a 7-speed DSG gearbox. 0-100 km/h in 2.6 seconds and 0-200 km/h in 7.1 seconds, 0-300 km/h in 16 seconds dead. The top speed is 410 km/h (254 mph).  ¼ mile is covered in 10.0 seconds flat and 1 mile in just 25.0 seconds. Other interesting disciplines like 0-100-0 km/h take 5.9 seconds and 0-200-0 take 12.9 seconds. The interesting discipline 0-300-0, which is brutal for the brake system takes 23.9 seconds.
The exterior features wings, doors, the parts behind the doors, the "medaillons" (French) and corners of the front bumper rendered in aluminium. The blue paintwork on the carbon fiber parts references France's classic motor sport color, as well as the Type 35. The new paint color "Bugatti Dark Blue Sport" has been specially developed for the vehicle. The aluminium parts are hand-polished and coated with clear lacquer.
The interior of the Legend Vitesse "Meo Costantini" is completely upholstered in leather. The roof, footwell, center sections of the seats and rear wall are all in the color "Gaucho", a sophisticated cognac tone. The seat's side cushions, arm rests, extended center console, door panels, dash panel, instrument panel and steering wheel are all trimmed in dark blue leather in the "Lake Blue" color.
Nothing is mentioned about the pricing, but it will be around €2,000,000. In case you are not billionaire, there is still chance to get one, of you make smart decisions.
Source: Bugatti