Bugatti Veyron Grand Sport Vitesse Jean-Pierre Wimille Edition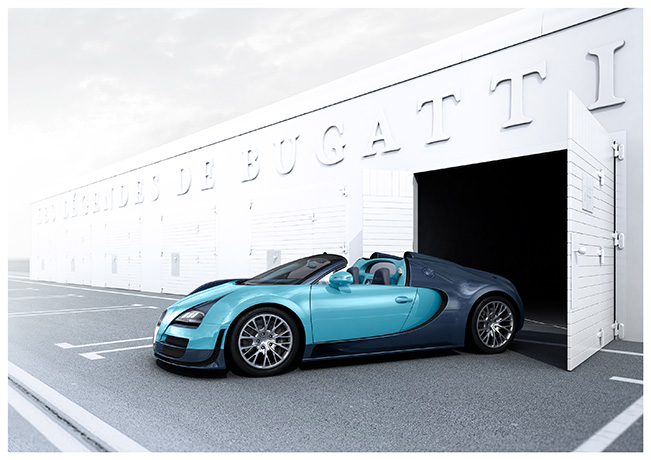 Bugatti is going to exhibit the Veyron Grand Sport Vitesse Jean-Pierre Wimille Edition next month during the Monterey Auto Week in California, USA. The manufacturer is continuing to make all kinds of special editions Veyron cars.
This particular model is limited to just 3 units named after the Legend Jean-Pierre Wimille, who triumphed at 24 Hours of Le Mans for Bugatti in 1937 co-driving a 57G Tank with Robert Benoist. He also won in 1939 while co-driving a 57C Tank with Pierre Veyron.
Bugatti Veyron Grand Sport Vitesse Jean-Pierre Wimille Edition comes with a clear-coated carbon fiber finish with a light Wimille Bleu paint job. The interior has some details connected to Mr. Wimille. "The materials and colors selected, as well as a host of details, all reference the essential characteristics of the classic models driven by those figures to whom our edition pays homage. In each case, this care has resulted in vehicles in which the authenticity of the past is combined with the modern design, the sportive superlative and the luxurious comfort of Bugatti as an icon of the present. With these Bugatti Legends we are giving history a modern makeover.", commented Achim Anscheidt, chief designer at Bugatti.
Bugatti Grand Sport Vitesse is powered by an 8.0 liter W16 quad-turbo engin - 1200HP (883 kW) and 1500Nm (1106 lb-ft) of torque. The engine is connected to a 7-speed DSG gearbox. 0-100 km/h in 2.6 seconds and 0-200 km/h in 7.1 seconds, 0-300 km/h in 16 seconds dead. The top speed is 410 km/h (254 mph).  ¼ mile is covered in 10.0 seconds flat and 1 mile in just 25.0 seconds. Other interesting disciplines like 0-100-0 km/h take 5.9 seconds and 0-200-0 take 12.9 seconds. The interesting 0-300-0, which is brutal for the brakes take 23.9 seconds.
Source: Bugatti