Chrysler Celebrates Production of All-New 2008 Dodge Challenger SRT8
Chrysler LLC today celebrated the production launch of one of the industry's most highly anticipated vehicles—the all-new 2008 Dodge Challenger SRT8®. Dodge Challenger is back in Chrysler's line-up as a modern muscle car with a new SRT8 model. A full line-up will follow in the 2009 model-year. Consumer interest in the Dodge Challenger has been some of the highest seen at Chrysler.
The all-new Dodge Challenger is built at Chrysler's Brampton Assembly Plant on the same assembly line as the Dodge Charger and the award-winning Chrysler 300.
"Even though the development time for this Dodge Challenger SRT8 is one of the shortest in Chrysler's history, the wait for this exciting car has been too long, and as of today, the wait is finally over!" said Frank Ewasyshyn, Executive Vice President – Manufacturing. "Dodge Challenger represents the best of Chrysler's past and future. The teams that worked to bring this vehicle to market with quality and speed have done an excellent job."
Nearly 1,000 employees and invited guests joined Mr. Ewasyshyn for the celebration.
Quality Manufacturing
To ensure quality targets were met and to foster a smooth manufacturing launch, a team of Brampton employees spent months helping to build pilot vehicles at Chrysler's Auburn Hills Technology Center. Then, early pre-production models were built on the Brampton assembly line—rather than a pilot facility—which allowed engineers to more realistically test the production process.
"The vision of rolling launches on lines that build multiple and variant models is becoming a reality as demonstrated with the Dodge Challenger at the Brampton Assembly Plant," said Fred Godetel, Vice President – Car and Minivan Manufacturing. "Chrysler's Flexible Manufacturing Strategy, little more than a theory a few years ago, is being proved out at plants across North America."
The Brampton Assembly Plant features Chrysler's Flexible Manufacturing Strategy which provides for the production of higher quality products at lower cost. This unique system combines off-the-shelf robotics with customized and interchangeable tooling to build a variety of products on a single assembly line. This manufacturing expertise also allows the Company to more quickly and easily balance vehicle production with customer demand.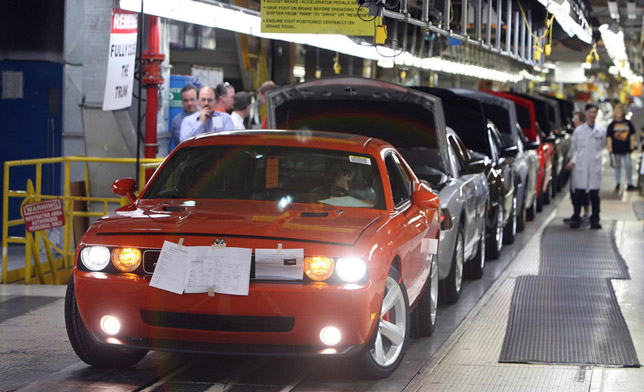 Dodge Challenger
The return of the iconic Dodge Challenger combines unmistakable design cues reminiscent of the original Challenger with world-class performance. Approximately 7,000 2008 model-year vehicles for North American markets will be produced before 2009 model-year vehicles begin production in August. For 2009, the Company will offer three models: Dodge Challenger SE, Dodge Challenger R/T and Dodge Challenger SRT8.
Dodge dealers have seen a tremendous interest in the Dodge Challenger and 2008 models are already sold out.
Although the original Dodge Challenger muscle car lasted only five model years, the Dodge Challenger became one of the most storied muscle car nameplates in automotive history, with meticulously restored and rare examples today selling for six-figure prices.
The U.S. MSRP for the 2008 Dodge Challenger SRT8 starts at $37,995, including the $675 destination charge.
Customer First
With world-class products like the Dodge Challenger, Chrysler can respond to customer insights and expectations with vehicles that truly capture the essence of the Company's bold spirit while exceeding customer expectations.
The New Chrysler LLC is more nimble than a publicly held company and is moving quickly to deliver more quality and value to Chrysler, Jeep® and Dodge customers. The Company initially approved 260 line-item product enhancements representing an investment of a half-billion dollars. The product changes continue to grow and are currently at more than 400.
The Company also launched last month the industry's first on-line Customer Advisory Board to establish two-way dialog with our customers, and thousands of people have already applied to be part of this board. As we move beyond focus groups to gain insights that we can share throughout the Company, this Advisory Board will be used to stay in touch with our customers.
Brampton Assembly
The Brampton Assembly Plant was built in 1986 and was later acquired by Chrysler Corporation with the purchase of American Motors Corporation in 1987. The Chrysler Concorde and Dodge Intrepid began production in 1997 and the Chrysler LHS and 300M in 1998. Production of rear-wheel-drive vehicles started in 2004 with the launch of the Chrysler 300 and Dodge Magnum. Production of the Dodge Charger was launched in early 2005.
The 2.95 million square-foot facility along with the Brampton Satellite Stamping Plant occupies 269 acres and together employs approximately 3,200 workers, many of which are represented by the Canadian Auto Workers (CAW). The satellite stamping facility was completed and production started in December of 1991.