Citroen DIVINE DS Concept Revealed Ahead of Paris Debut [VIDEO]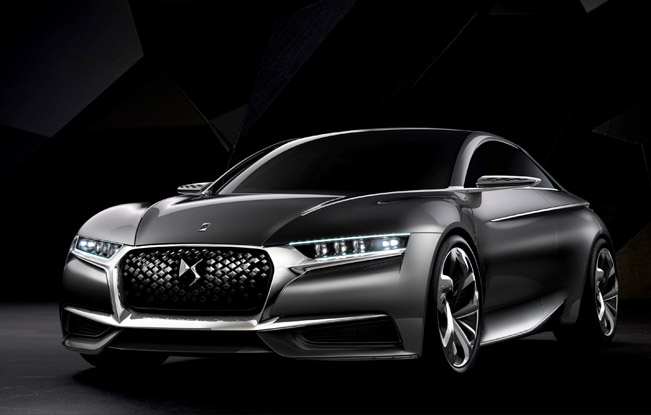 Citroen DIVINE DS Concept was just unveiled prior to its official first world appearance at the 2014 Paris Motor Show. The car represents a vision of the future for the DS brand and combines sophistication with advanced technology. Through this concept, Citroen also premiers the new 'Hyper-typage' interior design, which offers haute couture inspired levels of personalization. Furthermore, the car is equipped with a 10.4 inch HD Touch Drive interface, laser headlights and a holographic display. For this project, the French company has partnered with Swarovski & Lesage embroidery to make the interior even more luxurious and classy.
DIVINE DS is a compact 4-door vehicle which is powered by a 1.6 THP turbocharged direct-injection petrol engine. The unit produces 270 hp (199 kW) at 6,000rpm and 330 Nm (244 lb-ft) of torque between 1,900 and 5,500 rpm. This engine not only delivers excellent performance, but also is Euro 6 compliant, emitting just 145g/km of CO2.
The concept car has unique styling cues. It is elegant and enchanting, and it exterior has been decided in metallic grey. The strong, sensual curves showcase some striking graphic features, such as the 'DS Wings' at the front or the dramatic lines on the sides as well as the unique roof design. This DS model measures 4.21 m in length and 1.98 m in width. It also features a low driving position of only 1.35 m height. In the centre, the radiator grille includes floating diamond shapes and provides a place for the DS emblem.
Inside, the interior is as striking as the exterior. The cabin design includes a bold, high-tech layout, expressing the avant-garde design. On passenger's side, a single continuous drape enfolds the console and dashboard. It forms a twist as it reaches the door inserts. The airy-looking drape enfolds the passenger, while driver's side is a true example of advanced technology.
The central console sets out the driving functions. Main features include special toggle switches decorated with gemstones and a digital clock with a stone set in its surround in the middle. The rectangular steering wheel resembles more a sculpture rather than a regular steering wheel.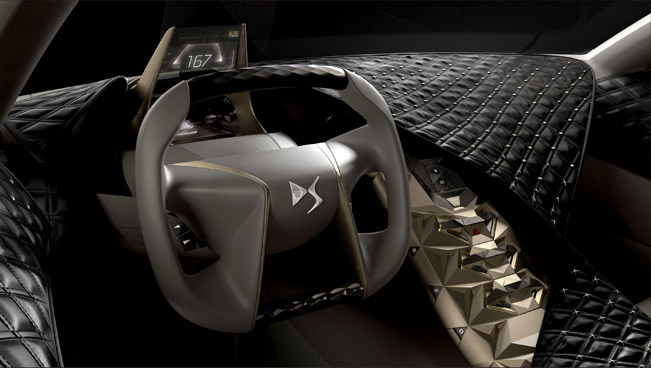 The seats are as futuristic as everything throughout the interior. They are upholstered in full-grain aniline leather. At the rear there aren't any rear windows, which allow passengers to immerse in an intimate atmosphere.
This Citroen concept also stands for new automotive experience, which is all about exclusive philosophy for personalization, referred to as 'Hyper-typage'. The cabin of DIVINE DS features three interchangeable interior ambiences. They are based on a dashboard and door scrolls that can be changed in just 15 minutes. The first one is called "Mâle", which offers a blend of highly masculine materials and pearl stitching in red and black. The second one is "Parisienne Chic". This one includes full grain ivory-coloured leather allied with pleated silk and satin, which is embroidered with beads and crystals.
The last one is "Fatale Punk" which offers nothing less than bold ambience, with its darker and more glamorous touch. The dominant note is provided by deep black, padded leather studded with crystals. The door panel scrolls are covered in Swarovski fabric. This is a material that shimmers with millions of tiny crystals.
DIVINE DS is a concept with a dynamic and avant-garde design, featuring futuristic headlights combining sequential indicators with laser technology, facets on the roof that open to reveal a reversing camera and optimised aerodynamics. Inside, the 'cockpit' driving position and exclusive use of digital systems such as touch screen and holographic display showcase the latest in-car technology. The 20-inch alloy wheels, on which the car runs, have an innovative design with the floating spokes.
The high-tech 'cockpit' features HD Touch Drive interface with a spectacular 10.4 inch screen. It is located on the overhead console and includes a function that replaces the rear-view mirror. The driver's information is in digital form, with a head-up display above the steering wheel, while behind it there is a holographic display.
Citroen DIVINE DS concept was unveiled in Paris yesterday, prior its official premiere at the Paris Motor Show in October. The car will be also displayed at the Chantilly Concours d'Elégance event on 7th of September.
Video Source: YouTube
Source: Citroen