DMC Maserati Gran Turismo Sovrano Delivers Luxury and Power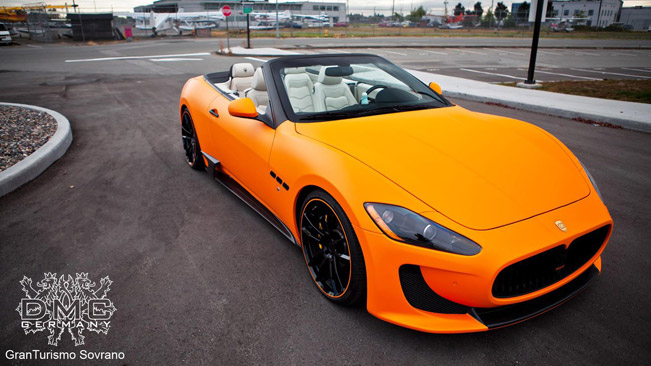 DMC Maserati Gran Turismo Sovrano is one of the best looking tunings I've seen recently. The reason for this is not only its goldish exterior color, but because the German tuner DMC included in it an engine and suspension upgrade, new rims and several carbon fiber exterior parts.
But let's go further into details a see what exactly has been done on this Maserati. On the front fascia, the newly designed front bumper gives and the new spoiler lip enhance the appearance as well as the aerodynamics of the GT, increasing downforce on the front axle.
Additional air inlets and outlets were added to the new light-construction bonnet. In addition, interesting facts are that the wide body side skirts have zig-zag end-panels, while the trunk spoiler and a new rear diffuser round-off the back of the car.
It's not a contemporary tuning, if it doesn't include carbon fibre. All add-on parts were made from this material and were manufactured by DMC using autoclave prepreg vacuum processing.
The optical appearance also includes a sport suspension for the front and rear axles, which lowers the vehicle's center of gravity by around 30 millimetres. The Gran Tourismo runs on 255/30 R 20 front tyres and 305/30 R 21 wheels at the back.
More importantly, some modifications have been done under the hood. The 4.7 liter V8 engine is now more potent thanks to a supercharger that is driven using a cogged-tooth belt. This means that the vehicle adds an additional 150 hp (110 kW) and 82 Nm (61 lb-ft), resulting in a total of 590 hp (434 kW) at 7,300rpm and 472Nm (348 lb-ft) of torque at 5,400rpm.
The tuners didn't forget the interior. There, they have used leather with a chequered stitch and plenty of Carbon Fiber. The aluminium pedals and new ergonomically designed sporty steering wheel are parts added to the setup.
Source: DMC