#DS3byNight is "Light-Painting" Digital Campaign for DS3 [VIDEO]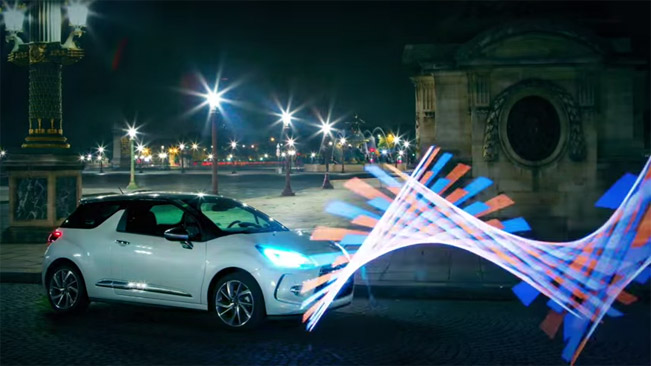 Citroen's sub-brand DS has launched an innovative campaign called #DS3byNight digital campaign, which is inspired by DS 3 and comes to show-off its new Xenon & Full LED light signature. As a matter of fact, this is the first communications campaign which utilizes the Pixelstick 'light painting' technology that practically made the video below possible. This technology allows the DS3 to bring pictures and words to light in spectacular fashion. The result is a light-filled film, which highlights the DS world of luxury and which takes viewers on a night time tour in Paris.
Echoing the Xenon and Full LED technologies that we have seen in the new DS 3 headlamps, the DS brand is utilizing this new 'light painting' technology to project detailed patterns and a range of animations, in a series of time lapse films. As you can see for yourself below, the result is a spectacular showcase for the light signature of DS 3, which in addition showcases brand's values of elegance and advanced technology.
The innovative film will also be supported by an interactive social media campaign. In it users will create their own messages, which in turn will be brought to light against backgrounds of classic Parisian scenes. This will happen over a ten-day period until 22 October.
2014 Citroen DS3 and DS3 Cabrio models were enhanced at the end of May this year. It is when they have adopted the new high-tech light signature, featuring the combination of LED and Xenon lightning technologies with new sequential indicators. The new headlights deliver greater visibility in both low- and high-beam positions. Three LED modules and a Xenon module were used for the design of this wide and uniform beam.
In addition, the new headlights also minimize the energy consumption by 35% when they operate in low-beam mode and by 75% – in high-beam. They are capable of life time of over 20,000 hours, or in other words – twenty times longer than halogen lights. LED DRLs in the front air intakes complete the new light signature. Facelifted DS3 models also have 3D-effect LED rear lights.
Video Source: YouTube
Source: Citroen