Ferrari 458 Spider Concept by Carlex Design Looks Astounding!

Ferrari 458 Spider has received an extreme appearance, both inside and outside. Although only in a concept variant, this car is the current project on which the experts at Carlex Design Studio are working and concentrating efforts. They have just released their interpretation of the 458 Spider in five images (sketches actually) at their official Facebook page.
A fortunate fact is that the tuners said that these conceptual drawings will be soon transformed into reality.
Carlex Design Ferrari 458 Spider Concept Exterior
Although there isn't much of information released, what we see is really pleasing and spoils the eyes. The first two pictures display the one-off exterior design of this Ferrari. It is painted in clean white color. It features black stripes on the hood and roof, and contrasting carbon fiber elements like the rearview mirrors.
SEE ALSO: Liberty Walk and SR Auto Roll Out Insane Ferrari 458 Spider
The wheels are also decided in black; they are with V-spoke design and are fitted with huge low-profile rubbers. All in all the exterior design look fantastic and we are impatient to eventually see it taking real shape.
Carlex Design Ferrari 458 Spider Concept Interior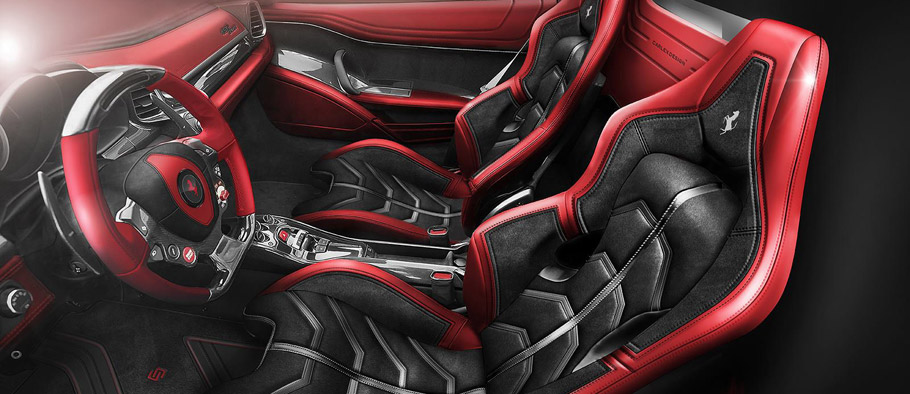 The cabin of this particular Ferrari 458 Spider Concept looks even better. It is infused in two contrasting colors: black and red, which is the perfect choice for the white exterior (in my opinion).
It is visible that the interior is bold and intense and almost blood-re. It features two-tone leather and Alcantara upholstery, starting from the steering-wheel, continuing through the door panels and dashboard, and ending up with the seats. There are a lot of dark accents, additional contrast stitching and leather inserts.
Drivetrain
There is no data released whether this car will feature any changes for its engine. If all stays intact, then this beautiful Ferrari 458 Spider will be driven 4.5 liters V8 engine, producing 605 hp (478 kW) and 540 Nm (398 lb-ft) of torque at 6000 rpm. This will allow the supercar to reach 0-100 km (0-62 mph) in just 3.0 seconds.
But don't you think that this exceptional design deserves an engine uprate?
Source: Carlex Design