Ferrari F40 vs F50 [video]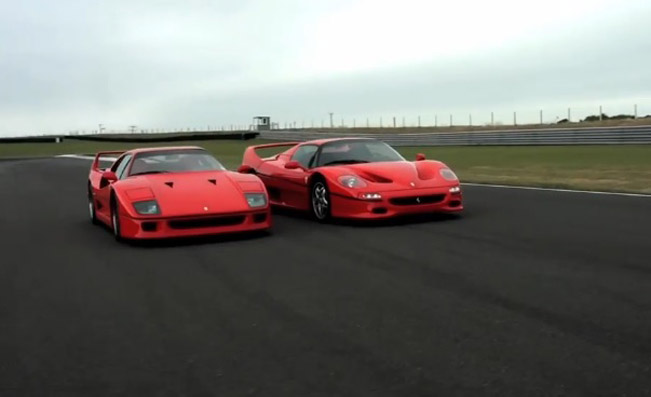 Drive has published an epic 22-minute video comparing two legends – Ferrari F40 and Ferrari F50. Chris Harris get the possibility to compare the two supercars from Maranello.
Ferrari F40 was produced from 1987 to 1992. In the year, when it came out, F40 did a world record for fastest street-legal production car. It managed to do 323 km/h (201 mph).
F40 is powered by 3.0 liter twin-turbocharged V8 with 478HP (352 kW) at 7,000RPM. The engine is mated to a 5-speed manual gearbox. 0 to 100 km/h in 4.1 seconds, to 160 km/h in 7.6 seconds and to 200 km/h in 11 seconds, flat. ¼ mile is covered in 11.9 seconds and 0-1000m in 20.9 seconds.
The curb weight is just 1,100kg.
The F50 is powered by a 4.7 liter naturally aspirated V12 with 5 valves per cylinder. It develops 520HP (382 kW) at 8,000RPM and 470Nm (347 lb-ft) at 6,500RPM. 0-100 km/h in 3.7 seconds and 0-160 km/h in 6.0 seconds. ¼ mile in 12.1 seconds and 1 mile in 30.3 seconds. The top speed is 312 km/h (194 mph).
The curb weight is 1,230kg.
When the F40 came out in 1987 it cost $400,000, while the F50 was $480,000 in 1995.
Which is better? Check out in the video!
Source: Drive via Youtube