Fifth Generation Mitsubishi L200 is Debuting in Geneva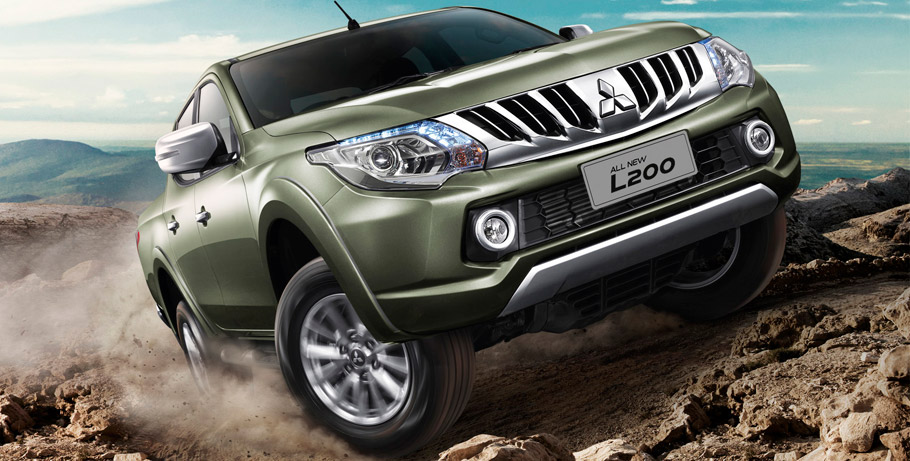 The last time we have seen the Mitsubishi L200 debuting was 9 years ago. For this amount of time, the company managed to sell 1.3 million units. Now, it is time for the automotive industry to meet the new 5th generation of the L200. It will have its premiere at the Geneva Motor Show next month. The new vehicle has been developed as a 'Sport Utility Truck' and it now promises to reach new heights of reliability, toughness, interior comfort and maneuverability.
Mitsubishi unveiled many details among which is the engine: 2.4 litre MIVEC turbo-charged diesel unit that generates 180 hp (133 kW) or 154 hp (113 kW) and respective 430 Nm (317 lb-ft) or 380 Nm (280 lb-ft). The unit is connected to a six-speed manual transmission and cam show impressive CO2 figures starting as low as 169 g/km. 
In terms of exterior characteristics, the L200 is aerodynamic, musclular and elegant. Inside, the interior has been made quieter, due to the noise-reducing measures taken. In addition, Mitsubishi has developed the MIVEC unit with decreased noisiness.
Other benefits are the extended rear suspension leafs and the increased roominess and competitive bed length. What is more, the reliability and toughness of the new L200 has been enhanced by refining and reinforcing the body structure and 7% higher torsional rigidity of chassis frame to endure the gruelling conditions.
Improved pro-active safety is the next advantage of the upcoming model. It is due to the addition of Super Select 4WD II (SS4-II) which delivers better cornering stability, Active Stability and Traction Control with Trailer Stability Assist and Hill Start Assist systems, Lane Departure Warning and HID headlamps. The passive safety has been enhanced by seven airbags.
Other new features include rear doors, keyless operation system with engine stop/start switch, Cruise Control, dual temperature automatic air conditioning, steering column-mounted paddle shifters, "reach & rake" adjustment of the steering wheel, rear view camera and Digital Audio Broadcasting radio system.
2016 Mitsubishi L200 will be launched in Europe during this summer in two body styles - Club Cab and Double Cab.
Source: Mitsubishi