2006 Fisker Tramonto sold for £50 000 at BCA
On the 10th of January Lex Autolease and BCA have gathered together in order to make a special sale at BCA Bedford. There have been featured 400 end-of-lease cars, in which were also included a special selection of prestige and sporting models. The sale attracted over 300 buyers. Moreover there were other 533 people logging on to bid via BCA's Live Online internet bidding service.  The sale achieved great success-over 90% of the cars were sold for around £3 million - plus turnover that achieved 99% of CAP Clean.
The highlight of the show was the 2006 Fisker Tramonto. In details the model of the vehicle is the only one with right hand drive in existence and it is one of just 15 built. Without a doubt the Tramonto is a true supercar, which is based on the Mercedes-Benz SL 55 AMG. It was created by the Californian based company founded by former Aston Martin head designer Henrik Fisker.  Moreover the model was painted in Titanium Quartz Metallic with two-tone Sand interior in finest Italian leather and finished with Aluminium and bare Carbon Fibre touches. In other words – a true master piece! Hence it is not a surprise that after some very competitive bidding in the auction hall and online, it was sold for £50,000, calculated as 172% of CAP!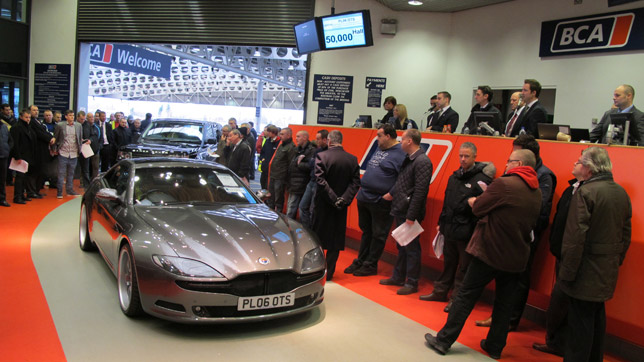 Another notable seller was the 0858 Hummer 2 6.2 Lux at 17,000 miles and finished in an eye-catching combination of orange and black with lots of chrome trim. The price it was sols is the far less £28,850 (equivalent to 112% of CAP). In addition other strong sellers were: 0858 Range Rover Sport 2.7 at 33,000 miles, sold at the price of £23,800 (105% CAP); 1010 BMW 520D 2.0SE – at 32,000 miles, sold for £19,100 (106% CAP); 1111 Audi Q5 2.0 QS – at 6,000 miles, for £32,300 (107% CAP); 0858 Mini Cooper 1.6 – at 40,000 miles, for £7,100 (106% CAP).
Hence we can make the assumption that there is still a very strong demand in the used car market early. BCA once again delivered plenty of buying power - both in the auction hall and online.
Source: BCA