Ford C-Max
Ford of Europe's no-compromise 5-seat MAV gets a dynamic new look for 2007, along with a host of new features inside and outside the vehicle. The agile and compact Ford C-MAX sits alongside the Ford S-MAX – Car of the Year 2007 – to create a new family of stylish and flexible people movers with the added benefit of class-leading driving dynamics.
Despite its distinctive new look, the new Ford C-MAX has lost none of its acclaimed features. In particular, its bespoke and flexible 'Comfort Seat System' is still available, and allows comfortable seating for three people in the second row or the unique ability to fold away the rear centre seat and allow the outer seats to converge diagonally and move back to provide even more leg and shoulder room for two passengers.
The exterior and interior details, however, have been improved, and the car features a completely redesigned front end incorporating elements of Ford of Europe's 'kinetic design' form language. This combines hard lines with muscular, flowing forms to represent a feeling of energy in motion even when the vehicle is stationary.
Already evident in the new Ford Mondeo, the Ford Galaxy and Ford S-MAX models, key 'kinetic design' elements transform the face of the new C-MAX, giving it a sporty and more expressive character with enhanced emotional appeal.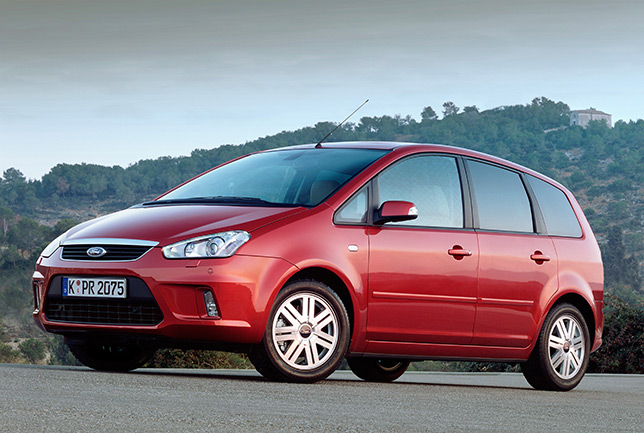 Giving the C-MAX a fresh new face and repositioning it alongside the S-MAX allows Ford to underline the breadth of its product portfolio, as well as offer two spacious family vehicles that customers want to own, rather than vehicles they have to own.
The Ford line-up of people movers is comprehensive, with the five-seat C-MAX and 5+2-seater S-MAX as tailored, dynamic and highly flexible solutions for customers who want to maximise driving enjoyment, plus the more traditional, full size seven-seat Galaxy MPV for maximum family space.
"The cornerstone of our 'MAX' strategy is to give customers all the features, space and flexibility they need from a family vehicle, but to style the vehicles in a way that allows them to stand out in the crowd, and above all to maximise driving pleasure," said Stephen Odell, Vice President of Marketing, Sales and Service for Ford of Europe. "Both the new C-MAX and the bigger S-MAX are true to this concept – versatile, comfortable and spacious, yet also great fun to drive."
Fresh and Contemporary Exterior The new Ford C-MAX features a redesigned front end which includes design elements already familiar in Ford S-MAX, and blends these elegantly with the established C-MAX shape to create an even more sporty vehicle.
Ford C-MAX now has the looks to match the way it drives. At the front, the bumper, grilles, bonnet, headlamps and fog lamps have been redesigned to give new Ford C-MAX a distinctive MAX family look and style.
The sculpted front bumper is a high quality, one-piece design which incorporates a new and distinctive lower trapezoidal grille giving the car a muscular and solid stance. The lower sides of the bumper integrate new vertical fog lights. The most distinctive feature of the new front end is the new trapezoidal lower grille which combines with a new upper grille, headlamps and three-plane bonnet to reinforce the sporty stance of the new C-MAX.
The upper grille has been redesigned and now incorporates a thick chrome lip on the leading edge of the bonnet as well as a larger Ford oval – both key identifiers for the new Ford 'face'. The three-plane, sculpted bonnet features two distinct lines which flow from the windscreen to the upper grille edges, creating a visual 'power bulge'.
At the rear, new C-MAX features a new bumper which is also smoother, rounder and a little deeper. A key feature at the rear of the car is the redesigned vertical tail lamps which now use LED technology through clear lenses, giving a clean and contemporary look.
"Integrating elements of 'kinetic design' into this redesigned model has been a special challenge. We wanted to bring the vehicle in line with the new members of the family, notably S-MAX, but we also needed to preserve the integrity of the overall C-MAX design," explained Claudio Messale, C-MAX Chief Designer.
Technologies for Comfort and Safety The new Ford C-MAX features a host of new technologies that enhance both comfort and safety.
Bold new headlamps emphasise high technology and high visibility. When Bi-Xenon lamps are fitted, a distinctive light strip runs along the top line of the lamp unit and replaces conventional parking light bulbs. These strips feature light blue illumination which adds extra class to the vehicle's overall appearance.
The standard LED tail lamps are a 'first' for Ford and add to the stylish contemporary finish and energy of new Ford C-MAX. The new tail lamps use LEDs to provide a strong graphic pattern of dots which, when lit, makes Ford C-MAX immediately recognisable from a distance.
Cost of ownership is further enhanced with stylish power foldable mirrors with integrated indicators on high series models: When folded, they reduce the likelihood of damage in tight parking situations.
A new feature for C-MAX is an optional panorama glass roof which makes the spacious interior even more airy. Covering almost the entire roof area and maximising light and visibility, dark-tinted to avoid glare, it has internal blinds that can be closed to provide shade and privacy when required. The panorama roof has a 'Solar Reflect' coating to minimise heat intrusion, thus providing a comfortable interior climate that adds to safe vehicle operation.
Another new C-MAX feature is blue glass for the Titanium series, lending even more style and sparkle to the 'modern techno' personality of this top-of-the-range model.
Premium Quality and Flexible Interior Its functional and warm ambience gives new Ford C-MAX a distinctive interior personality that represents comfort.
All the small details add up to a high level of perceived quality and make a lasting impression on the customer. Reflecting the 'kinetic design' elements of the redesigned exterior, the new C-MAX interior features offer a fresh visual impact with more interest and drama.
Red graphics for the instrument cluster as well as red illumination of switches and dials plus optional Dual Electronic Automatic Temperature Control ( DEATC) and the wide variety of in-car infotainment systems provide visual consistency with S-MAX as well as a new level of elegance.
An all-new design of optional Sony in-car entertainment systems is available for C-MAX, and these are designed to integrate seamlessly into the new centre stack. These high-end entertainment systems are available with CD player or integrated 6-CD changer.
For portable audio connectivity, a 3.5mm socket is now standard equipment and is conveniently located in the centre console. Standard MP3 players can easily be connected with the audio system.
A new centre console for high series models features a flowing design which links to the instrument panel, and includes an integrated sliding telescopic armrest for added front seat comfort.
The interior door panels have also changed, with a new soft-touch roll top for Ghia and Titanium models.
Other features which add to the more contemporary feel of the new C-MAX interior include newly designed steering wheel rim with thumb rest area for the Trend series and a new vertical lift, manual Z-shaped handbrake that is easy to use and compact, leaving enough space in the centre console for a 1.5 litre bottle.
New ambient lighting in warm amber shines down on the centre console area from above. New interior environment colours (Arizona/Biscuit, Ebony/Pewter and Ebony/Dark Flint) provide a warm atmosphere and complement a range of new exterior colours.
Sculptured sport seats with increased side support, unique trim and new saw-style stitching enhance both driver orientation and style, while for the rear passengers Ford's bespoke C-MAX Comfort Seat System remains standard for high series models.
The C-MAX Comfort Seat System provides comfortable seating for three people in the second row or the unique ability to fold away the rear centre seat and allow the outer seats to converge diagonally, thus providing even more leg and shoulder room for two passengers.
For maximum luggage carrying capacity, each of the three rear seats can be individually tipped, tumbled or completely removed.
Wide Customer Choice The new Ford C-MAX will be available in four distinct series – Ambiente, Trend, Ghia and Titanium. An X-pack will also be available for Ghia and Titanium models, while a Sport pack can be specified exclusively for the C-MAX Trend and Titanium. This comprehensive line-up is designed to meet all customer needs and wishes.
The Ghia and Titanium models sit at the top of the C-MAX range, with the new Titanium series delivering maximum comfort combined with 'modern techno' features and style. Standard exterior features like blue tinted glass and 17-inch multi-spoke alloys with 205/50 tyres plus interior elements in "brushed chrome" form an attractive package for customers with an inclination towards the combination of technology and innovation.
Both Ghia and Titanium series can be further upgraded with an X-pack, featuring full leather trim with a 6-way power adjustable driver seat, 4-way manual height adjustable passenger seat – both of them heated – and privacy glass for the Ghia.
For the Titanium series, the X-pack includes the new panorama roof, sport seats with partial leather trim, Bi-Xenon headlamps as well as unique front upper and lower grilles.
The optional Sport pack offers an even more dynamic experience with a lowered sport suspension, specially designed 17-inch alloy wheels, sport seats and a leather steering wheel.
New alloy wheel designs enhance customer choice and wheel sizes range from 16- to 18-inch.
In addition, customers have the opportunity to choose from a wide range of optional features and accessories offered by Ford Customer Service Division FCSD, including different body styling kits to further underline the car's dynamic character.
Ford C-MAX Safety and Driving Quality For Ford, precise suspension tuning forms the base for a vehicle's active safety package. Driver and passengers can rely on this as a part of Ford's approach to driving dynamics, known as Ford Precision Drive.
New C-MAX now benefits from 5mm of extra track width which guarantees confidence, comfort and control in any driving situation. Other C-MAX active safety features like ABS, EBD, EBA and ESP together form a system that help drivers address critical situations with a greater margin of safety.
A new and additional safety feature is the Adaptive Front lighting System (AFS) which greatly improves lighting efficiency and provides better visibility when cornering. AFS is available with conventional halogen lamps which swivel in corners to provide better illumination. According to the steering angle and the driving speed, they slightly pivot their beams to light the road ahead.
Passive safety in C-MAX starts with its structural integrity – an ultra stiff body shell and a rigid passenger safety cell. Both are inherent to Ford's Intelligent Protection System (IPS) which comprises state-of-the-art safety features.
In addition to full-size airbags and side airbags for driver and front passenger, Ford IPS in C-MAX also includes side curtain airbags for the first and second row, pretensioners and load limiters for the front seat belts, a load limiting steering column and a pedal intrusion prevention system.
Three-point seat belts are standard for all rear seats, while ISOFIX brackets are available for the outer rear seats. This arrangement promises not only comfort, but also top-notch safety for travelling children: the original Focus C-MAX achieved a full four-star Euro NCAP rating for child safety.
Ford C-MAX Powertrains New Ford C-MAX is available with a range of Duratec petrol and Duratorq TDCi diesel engines, depending on market. All offer power and performance for pure driving enjoyment and combine this with good fuel economy and low emissions.
Duratec Petrol Engines All C-MAX Duratec petrol engines – 1.6-litre, 1.8-litre, and 2.0-litre units – are tuned to emphasise the dynamic road behaviour of the vehicle. Power bands range from 100 PS (74 kW) to 145 PS (107 kW), with peak torque figures ranging from 150 Nm to 185 Nm.
These modern engines feature aluminium cylinder blocks and cylinder heads for reduced weight and a lower centre of gravity.
For motorists looking to make a more positive contribution to the environment, new C-MAX is also available with a 1.8-litre Duratec HE Flexifuel engine.
Without compromising power and driving fun, the C-MAX Flexifuel can run on any mix from 100 per cent petrol to 85 per cent bio-ethanol fuel blend (E85). Since bio-ethanol is derived from renewable biomass sources, the use of bio-ethanol reduces CO 2 emissions by up to 80 per cent by closing the CO 2 circle (well-to-wheel perspective) .
Ford's highly affordable Flexifuel models are part of the company's broad portfolio of advanced environmentally friendly technologies. Today, 80 per cent of Focus sales and 40 per cent of all Ford sales in Sweden are Flexifuel models. Focus and C-MAX Flexifuel vehicles are now available in ten European countries.
Also, customers choosing Ford's 2.0-litre Duratec HE engine in selected markets can order it fully converted for use with Liquefied Petroleum Gas (LPG) or Compressed Natural Gas (CNG).
Duratorq TDCi Diesel Engines Ford's Duratorq TDCi diesel engines are recognised as leaders for performance and efficiency and provide smooth and quiet running with low emission levels.
Four engines with 1.6-litre, 1.8-litre, and 2.0-litre displacements are available, two of which are offered with a standard Diesel Particulate Filter system.
Power bands range from 90 PS (66 kW) to 136 PS (100 kW); with maximum torque figures from 215 Nm to an impressive 320 Nm. All of these engines deliver strong pulling power, but not at the expense of fuel consumption. In combined mode (93/116/EG), new Ford C-MAX equipped with the 1.6-litre Duratorq TDCi engine consumes just 4.8 litres of diesel per 100 kilometres, and even with the top-of-the-range 2.0-litre Duratorq TDCi DPF engine, C-MAX consumes just 5.8 litres of fuel per 100 kilometres in combined mode.