2013 Ford C-MAX Energi Plug-In Hybrid Delivers 550-Mile Range [VIDEO]
2013 Ford C-MAX Energi Plug-In Hybrid is expected to achieve great results. First it is promised to run more than 20 miles of electric-only range. Secondly, a 550-mile drive will be the overall range of the car.
In addition, Ford's new vehicle delivers great combined fuel economy of 95 mpg. In details, C-MAX Energi operates just like a traditional hybrid. However it has two key differences: owners must plug in the vehicle using its charge port and C-MAX Energi has a larger battery pack.
C-MAX Hybrid and C-MAX Energi figure prominently in Ford's rollout of five electrified vehicles this year. Ford's other electrified vehicles include:
C-MAX Energi also advantages from 20 years of research and innovation in terms of software and hardware technology. In fact, the vehicles powersplit technology comprises of more than 200 patents alone.
The C-MAX Energi is able to generate total 188 hp (138 kW) which come from the combination of a gasoline engine and a battery-driven electric motor. When powered by gasoline, the C-MAX Energi uses the 2.0-liter Atkinson-cycle four-cylinder engine.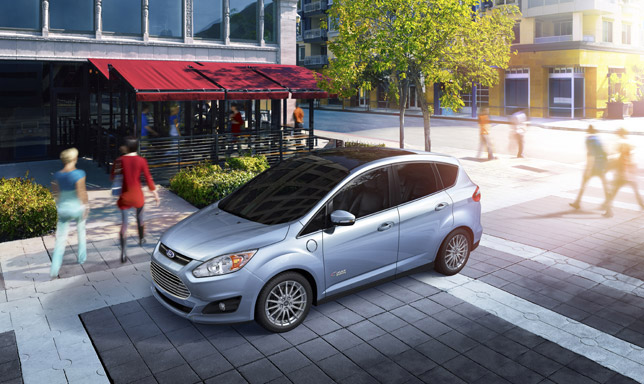 2013 Ford C-MAX Energi Plug-In Hybrid
The advanced lithium-ion battery in C-MAX Energi is charged via plug-in, the vehicle is able to achieve increased electric mode and total range. In addition the lithium-ion batteries are lighter, more efficient and more powerful than nickel-metal hydride batteries, which were used back in the days when Ford made the first-generation hybrids.
C-MAX Energi benefits from the latest generation of SmartGauge® with EcoGuide as well. It was created in order to help drivers get the most important information such as instantaneous fuel economy. It is displayed on one of two 4.2-inch LCD screens.
2013 Ford C-MAX Hybrid is already available to order with a starting price of $25 995.
Source: Ford