Meet Ford Mustang Geiger GT 820 with Almost Doubled Horsepower

Ford Mustang was born more than 50 ears ago, in the distant 1964. The original American Pony Car soon became emblematic and now there is hardly anyone that doesn't dream of at least taking a ride in it. The German specialists at GeigerCars.de have made a leap forward and given this amazing muscle vehicle a new performance and styling attitude.
After the conversion, the car carries the label Geiger Mustang GT 820, and as you can tell the number behind GT is there for a reason. It is to signify that the horses have been almost doubled: from 421 hp to 820 hp and 760 Nm of torque. This improvement was achieved due to the addition of an intercooled supercharger conversion to the 5.0 litre V8 engine.
SEE ALSO: What Happens When Ford Shelby Mustang GT Becomes a "Rent-A-Car"? The Result: Magnificent!
So much amount of power just needs great soundtrack, and it was secured by the addition of the stainless steel sports exhaust system. With its flap control wide open this exhaust gives the Mustang GT 820 a mighty V8. GT Performance package balances the performance even further, and it includes a Brembo six-pot calliper big brake system, 3.73:1 final drive and Torsen limited-slip differential. Without being part of the pack, Geiger-sports suspension kit is another important part of the GT 820 conversion.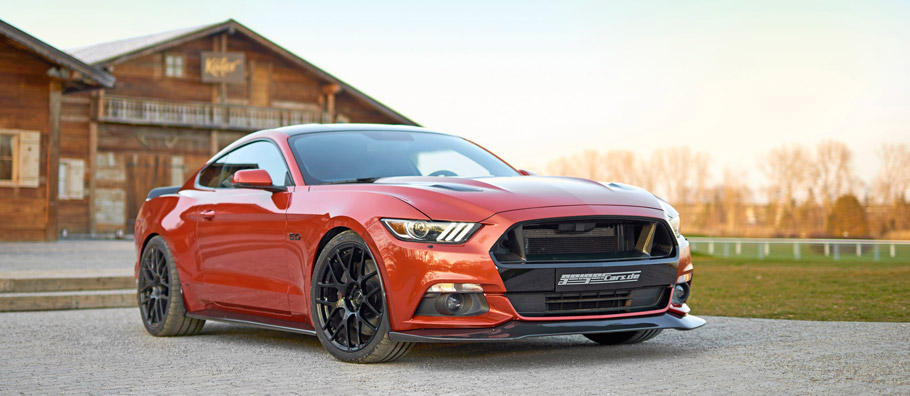 The in-house made carbon-fibre body kit comprises of a new grille, large front spoiler lip and matching side skirts, visually boosts the appearance of the car. At the rear, we see an under body diffuser and boot lid spoiler. To fill out the wheel arches, the tuners mounted black-painted Y-spoke lightweight forged alloy wheels in 20-inch size shod with 255/35R20 and 295/30R20 Michelin tyres, and this rounds out the tuning of the Mustang.
Source: Geigercars.de