2012 Fostla Audi Q7 SUV now offering 600 horsepower
2012 Fostla Audi Q7 SUV is a unique and newly tuned vehicle which will amaze you with its 600 horsepower (441 kW) and exceptional appearance added to the inherent Audi class and style.
The tuning company is no other but German based and in details it specializes in premium wrapping foils. In details the machine which stays behind this makeover, is the Audi Q7 V12 TDI. It has served as a basis for the foiling.
In fact, this was the first ever V12 TDI in a passenger vehicle. This engine has the capacity to produce an output of 368 kW (500 hp) and 1,000 Nm of torque (737.56 lb-ft) from its six liters. This means that solely the base model catapults from zero to 100 km/h (62.14 mph) in only 5.5 seconds and has an electronically capped top speed of 250 km/h (155.34 mph).
But let's go back to the work of Fostla. What is important to highlight here is that the skilled handwork turns out to be a one of the most important things. The primary color of the Audi was green. However, the refinement now is made with PWF foil in diamond black matt.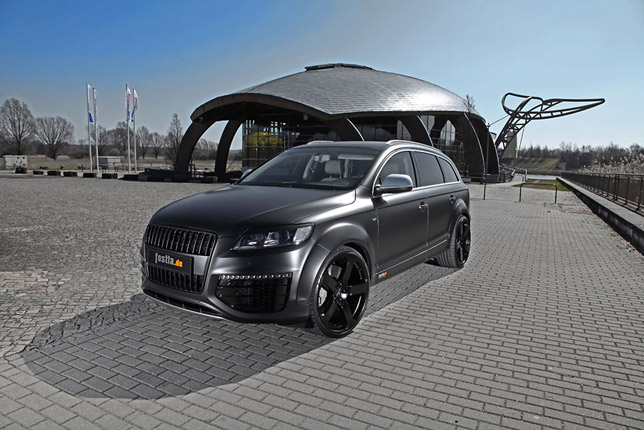 In addition, the discs were also toned between fifty-five and eighty-five percent. The front and back lights have five percent of tinting.
Additional changes are also offered – this time not only in terms of exterior foiling style, but also in terms of set of 11x23 inch matt powder coated side Mansory C5 rims with 315/25R23 tyres in combination with 15 mm front and 30 mm back track plates.
More importantly in my opinion here is the work that has been done on the engine. To be more précised it was optimized and now is able to deliver the astonishing 600 hp (441 kW) and 1,150 Nm (848 lb.-ft.) torque.
To sum up: a great tuning to be considered by many!
Source: Miranda Media