Fostla.de is killing it with this Audi R8 V10 Plus project

Fostla.de Audi R8 V10 Plus is The King among kings. We all know how rare are those R8 V10 Plus models and how much time one has to wait if they have made the decision of buying it. And obviously there is a big problem when it comes to the individuality of these unique supercars, because more and more tunings are being revealed.
Such instance is the outstanding and creative project of Fostla.de. Just by simply optimizing vehicle's body they have created something highly exceptional and irresistible. The changes made are very simple but still intriguing to be viewed by the eye.
SEE ALSO: Fostla.de shows stunning black-chrome BMW M3 Coupe
Of course, the outstanding vinyl outfit has no power over the technology or the inherent strength of the Audi. In other words, the V10 is still producing 610 HP (449 kW) and 560 Nm (413 lb-ft) of torque at 6500 rpm. Mated to a seven-speed dual-clutch transmission, the engine helps the R8 V10 Plus accelerate from standstill to 100 km/h in just 3.2 seconds on its way to a maximum speed of 330 km/h.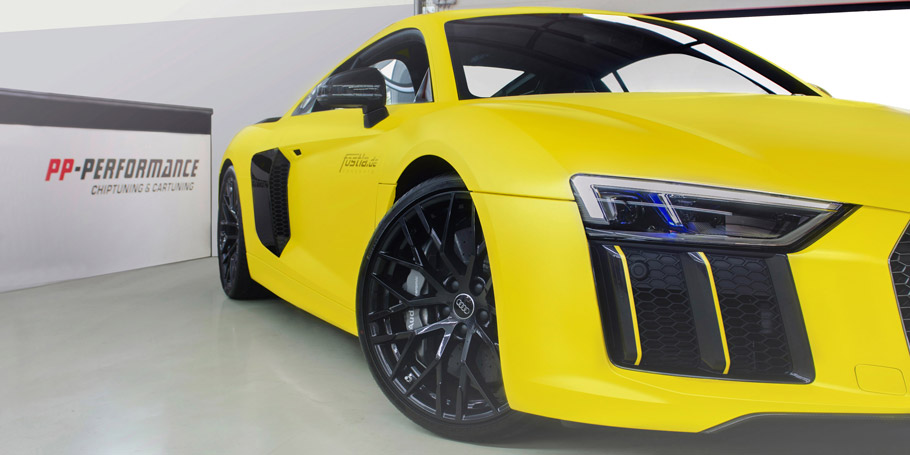 Now back to the topic, this super sports car has been modified by the fostla.de experts under the close supervision of the Managing Director Darius Wallat. The striking color of the vinyl wrap is called Sunflower-Matt-Metallic. Note that the wrapping includes the entrances and the visible door edges, which is very tough task to do.
What is more, some of the carbon parts have been coated in a so-called "self-healing" vinyl. It has been delivered by XPEL and offers maximum protection from stone chipping for fast cars… at least for car's fronts.
Well, you can't help falling in love with this car, can you?
Source: Fostla.de via Miranda Media