Fostla Mercedes-Benz SL 55 AMG Lquid Gold with 548 Horsepower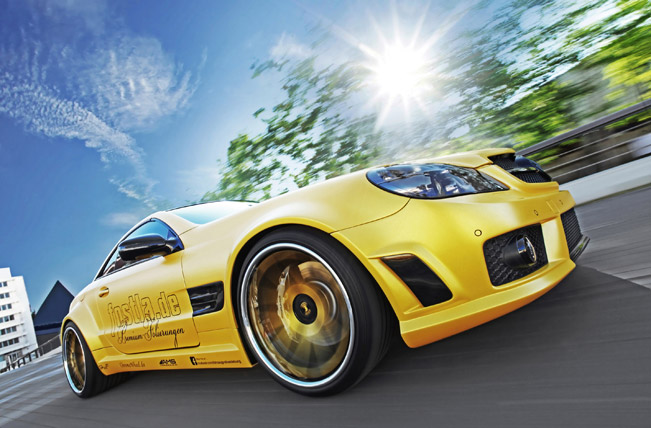 Fostla Mercedes-Benz SL 55 AMG Lquid Gold is a modification of the iconic model with premium foils and an extensive conversion to MOPF II. The refinement has been made by Fostla, a tuning company the Lower Saxony Hannover, which is proficient in vehicle foiling.
What else has been used in order to transform this Mercedes-Benz is a wide body aerodynamic kit delivered by PRIOR-Design (from their PD-Series named Widebody). In fact you can literally witness how this ingenious system of flowing lines and expressive curves boasts with an roadworthy tuning.
In addition, a great combination of wheels and tires has been implemented on this SL 55 AMG. Rotiform rims has been utilized, whose inner star was first powder coated in gloss black and then foiled in body color. Their dimensions are 10.5x20 inch at the front axle and 12.5x20 inch at the rear axle.
The latter have been fitted with appropriate tires with the dimensions of 265/30-20 and 325/25-20. Furthermore, what brings the SL closer to the asphalt is the lowering kit. The round-made window tinting received a humble 5% headlight tint.
An enhancement of the power has been performed as well. The V8 engine, which originally produces 500 hp (368 kW) is now further software optimized and generates 548 hp (403 kW). Another highlight here is the new exhaust system including black glossy powder coated exhaust tips.
Source: Miranda Media