How to make your 15 year old Mercedes SL Roadster look modern
Piecha Design offers state-of-the-art looks for the roadster
Mercedes-Benz SL R230 Roadster was introduced 15 years ago. Back then no one could ever imagine that this model would become a timeless car classic. Well, if you take a look at it, it might seem a little bit outdated, however, in terms of performance it might take a lot cars down. So, what happens if you are an owner of SL R230 roadster, you love classics, but still wish to look contemporary?
The problem can be solved immediately, if you contact Piecha Design: a studio which has just made a strong and modern package for the Mercedes. Called Avalange RS, the name is reminiscent of the SL's motorsport roots back in the 50s. And this counts for the exterior, too.
SEE ALSO: If this Mercedes-AMG GT S could only happen… 
Precisely, the rear is adorned by a DTM-like diffusor that has been integrated in a mighty rear apron with or without a lateral grid insert, as well as rear spoiler lip and four-pipe Quadro exhaust. Piecha says that the sound is a "killer".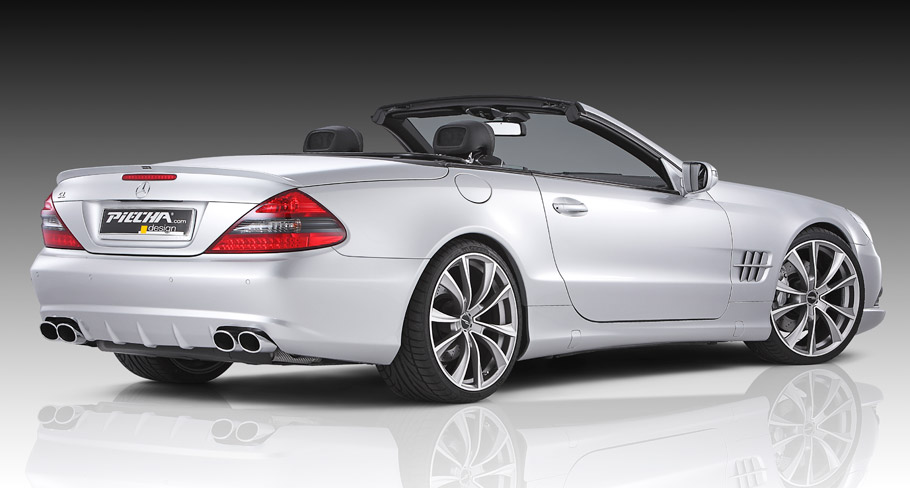 On the sides there is a wedge-shaped side skirt with air inlet, while the front features angular Avalange RS air dam with integrated LED DRLs. The front also sports new bumper, which looks more contemporary than ever.
The whole car has been brought closer to the ground via lowering-suspension springs and wheel spacers. But, the most important part of the Avalange is the Vario roof module. It significantly speeds up the opening grip (26 seconds now), simply by clicking the key three times. Last, but not least in every package are the wheels, which in the case of the SL Roadster are in-house made MP1-monoblock, sized at 20-inches.
Simple, but effective changes are more always more impressive, aren't they?
Source: Piecha Design