Original accessories for the Mercedes-Benz SL
Not that a Mercedes-Benz SL is a very common sight on the streets but it's owners will eventually become wary about the possibility of blending in. That's not what Mercedeses are for. Loosing that character of exclusivity may be the worst thing that can happen to an SL. Luckily however, there is a solution... coming directly from Daimler's cellar in Stuttgart – introducing the Mercedes-Benz original accessories.
The variety of things that can go on your SL is extensive. Extensive is the wheel selection – eleven stylish alloy wheels. Then there are the various docking stations and ports so you can plug-in just about any smoartphone that has ever been produced. A COMAND Online multimedia system includes a DVD changer and a media interface and is compatible with again numerous mobile devices.
Leaving functionality and entering style we find the elegant door sill made from brushed stainless steel that reads an illuminated "Mercedes-Benz". Or how about taking a part of the SL wherever you go with the key ring which is a replica of the SL symbol on the boot lid?
AMG also contributes to the goody bag – aprons for the back and front, side skirts and a choice of three 19-inch five-spoke wheels.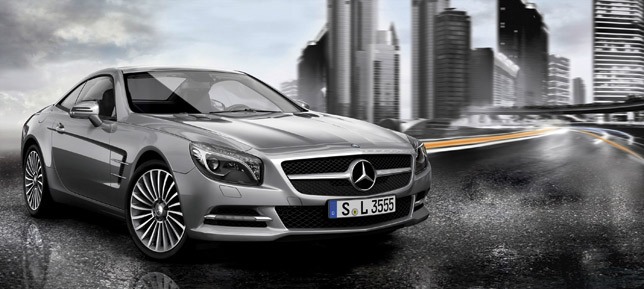 Source: Mercedes-Benz