GKN Driveline's innovative AWD coupling debuts on new Infiniti FX series
At the heart of the new Infiniti FX's Intelligent All-Wheel Drive (AWD) system is a new generation AWD coupling from GKN Driveline Torque Technology.  GKN Driveline's ElectroMagnetic Control Device (EMCD) controls the power flow in the driveline to provide optimum AWD performance when needed and Rear-Wheel Drive (RWD) performance when it is not. At the extremes, up to 50% of the vehicle's power can be sent from the rear wheels to the front wheels if necessary to optimise traction.  Most often GKN Driveline's EMCD will be working to provide optimum apportionment of power between rear and front wheels in a wide range of driving manoeuvres: for instance, when accelerating from a stop, enhancing control in corners, adapting to poor, varied or unpaved road conditions
GKN Driveline's coupling technology has been fitted to previous generations of the Infiniti FX range and has long provided enhanced performance and durability. For the new 2008 Infiniti FX series, a stylish performance crossover, GKN Driveline took on the challenge to redesign the EMCD to reduce size, weight, and drag torque.  The result was an all-new coupling structure, more easily integrated into the Infiniti FX's transfer case and, with the considerable advantages of being 30% lighter and having approximately 80% less drag torque, the new design contributes to the overall fuel economy of the vehicle.  GKN Driveline also supplies the rear sideshafts for the new Infiniti FX50.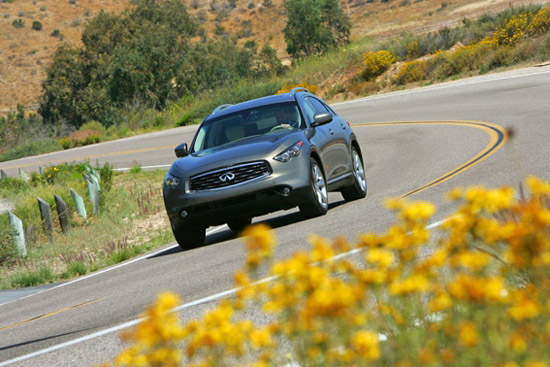 Speaking about the new EMCD, Graeme Walford, managing director of GKN Driveline Torque Technology said: "Nissan and its Infiniti brand vehicles have long been important customers for our AWD coupling products. This new application has been a challenging development and I am delighted that the new EMCD has made a successful debut on the latest FX models."
Offering customers a ready solution to enhancing driveline performance and driving dynamics, GKN Driveline's EMCD product technology is also increasingly being sought for AWD vehicles derived from FWD platforms: Graeme Walford adds:  "Since re-engineering our EMCD products, we have made a successful launch on the Nissan Murano, and are now working on new applications with four new customers in Europe, the USA and Asia.  Our development focus is on making EMCD lighter and more efficient to support fuel economy improvements for AWD vehicles and on increasing our interaction with customers in the important areas of vehicle dynamics, electronics and system integration activities."