Good to be Back in Canada Again
For the 450 Chrysler, Jeep and Dodge dealers in Canada, things are looking pretty good: 21 straight months of sales growth to be solidly the 2nd best selling lineup in the country, the best sales month ever for Dodge Ram, and the best April results in over five years and 2007's top market share and sales volume gain. It's good to be in Canada. I should know, I worked there for four years.
This week, I accompanied Chrysler Canada President and CEO Reid Bigland (below right) to the grand opening of a new $12 million Jim Pattison Chrysler Jeep Dodge dealership in Vancouver. The new benchmark facility stands tall alongside Pattison's Toyota, Volvo and Hyundai stores in the Jim Pattison Auto Mall in North Surrey, BC. Chrysler, LLC is the only domestic automaker that the Jim Pattison Auto Group represents, and the group is extremely bullish on our future.
The Jim Pattison Group is a $6 billion company with 30,000 employees around the world and is the number-one automotive retailer in fast-growing province of British Columbia. Pattison, one of Canada's top business leaders (seen above, left) knows a good business model when he sees one, and his new 34,000 square-foot CJD dealership speaks to his confidence in Chrysler.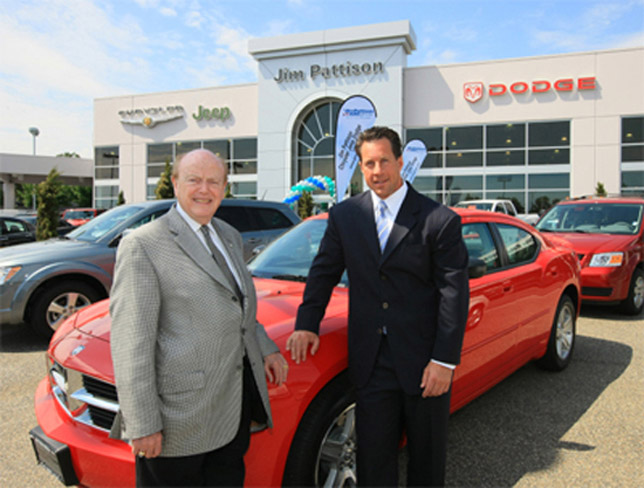 Pattison's all-new state-of-the-art dealership is equipped with the best sales and service technology currently available. Car customization is as popular in British Columbia as it is in California, so the dealership has a new Mopar Speed Shop with all the Mopar accessories for enthusiasts. There's also a Mopar Lounge and beverage area, internet facilities and customer work stations. Compared to the store it replaces, this new dealership's parts and service capacity has increased by 30 percent, and showroom space is five times larger.