Hartge BMW 2-Series - Power Boost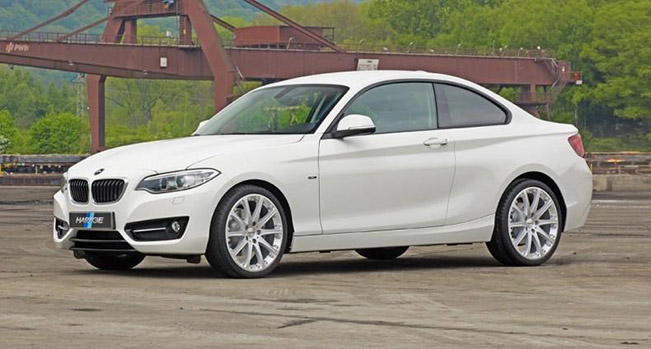 Hartgehas presented several tuning packages for the 2014 BMW 2-Series Coupe lineup. The small coupe is going to get a significant power boost across the entire range. As an official BMW tuner – Hartge offers warranty for all upgrades.
Starting with the diesel variants, Hartge boosts the 218d to 174HP (128 kW) and 380Nm (280 lb-ft) – an increase of 31HP and 60Nm. The 220d output is now 218HP (160 kW) and 450Nm (332 lb-ft) – an additional 34HP and 70Nm. The 225d can be boosted to the impressive 258HP (190 kW) and 530Nm (391 lb-ft) of torque – an increase of 40HP and 80Nm.
For now, Hartge offers power boost only for 220i, which is boosted to 218HP (160 kW) and 320Nm (236 lb-ft) of torque – an additional power of 34HP and 50Nm.
Besides the power upgrades, Hartge also offers several sets of sport spring for lowering the ride height up to 30mm at the front and 10mm at the rear. There are also new black wheel caps, a tire repair kit, bespoke floor mats and of course full package of Hartge emblems – front and rear hoods as well as for the steering wheel.
Hartge will soon offer more performance packages for 228i and M235i.
Source: Hartge