Hennessey Venom GT - 427.6 km/h [video]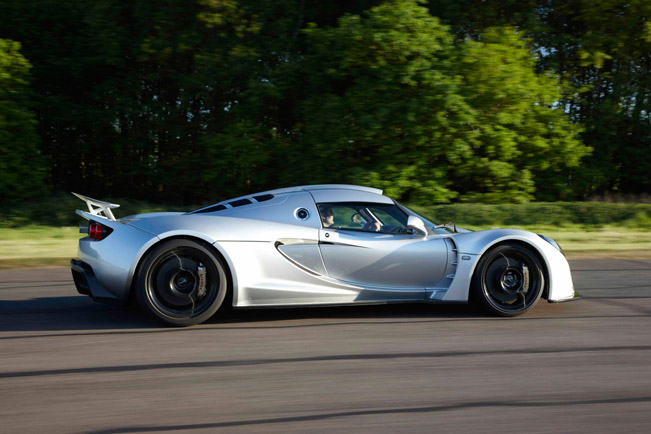 Hennessey Venom GT has managed to hit sensational speed of 427.6 km/h (265.7 mph) on the runway at the Lemoore Naval Air Station in California on February 9th. This means, that it is officially fastest than Bugatti Veyron Super Sport, which is limited to "just" 415 km/h (258 mph).
However, the Veyron Super Sport still stands in Guinness Records as the "fastest production car" in the world with 431.072 km/h (268 mph). This won't stop John Hennessey, who has always wanted to steal this record.
As a reminder, the Venom GT is based on Lotus Exige powered by a twin-turbo 6.2 liter V8 with 1217HP (895 kW) and 1564Nm (1155 lb-ft). The engine is mated to a 6-speed Ricardo manual gearbox. 0-100 km/h in 2.5 seconds, 0-200 km/h in 7.96 seconds and 0-300 km/h in just 13.5 seconds.
The car weighs just 1220kg (2585 lbs).
The price is $950 000.
Source: Hennessey Performance via Youtube