World's Fastest Production Car from 0 – 300 km/h - Hennessey Venom GT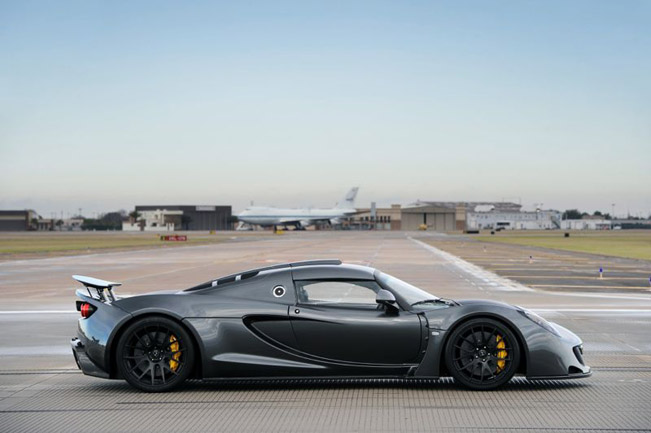 Hennessey Performance (HPE) has broken two sensational Guinness records. The first one is "Fastest Production Car from 0 - 300 km/h" and the second "Fastest Production Car from 0 – 200 mph". The "tool" was a street-legal Venom GT supercar.
The acceleration time was an average of two runs made in opposite directions within one hour and validated by a VBox 3i GPS-based data logging system. VBox officials were on hand to certify the numbers as required by Guinness rules. The first run was completed in 13.18 seconds with a 4 mph tailwind. The second run was made in 14.08 seconds while encountering a 6 mph headwind. The resulting two-way 0-300 km/h average was 13.63 seconds.
"We are exceptionally proud of our team at HPE who helped to make this new Guinness® World Record possible," commented company founder and president, John Hennessey.
"This is just the first of several validation tests designed to show the world what our special car is all about – being the fastest. Period.", he added.
The Hennessey Venom GT is powered by a 7.0 liter twin-turbocharged V8 – 1,244HP (915 kW) and 1,559Nm (1,155 lb-ft). The curb weight is 1,244 kg (2,743 lbs). So, the power-to-weight ratio is 1.
The street legal supercar has Michelin Pilot Sport Cup DOT-approved radial tires, uses 93-octane pump fuel, and has a full interior replete with high-end stereo, air conditioning, and bespoke leather/Alcantara seats.
Source: Hennessey