Hyundai Tucson Fuel Cell Vehicle Will Attract Customers With Additional Features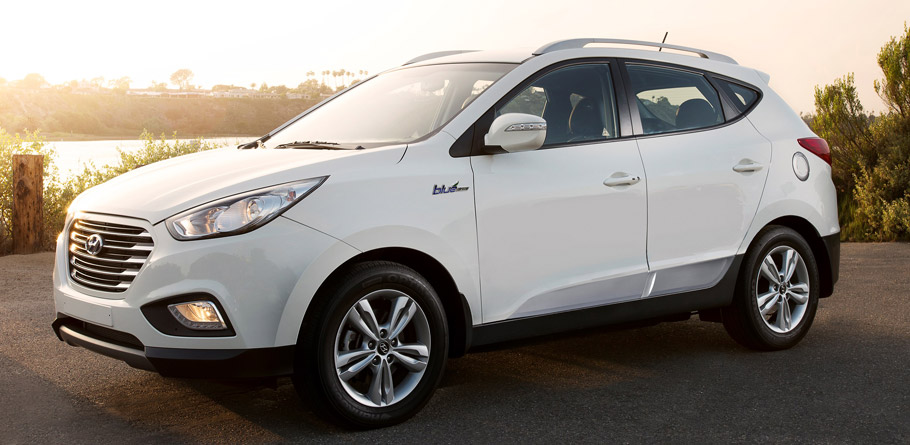 Hyundai's zero-emission hydrogen-powered Tucson Fuel Cell machine continues to attract customers, that desire a versatile and clean car. And now, despite the wonderful feedback, for 2016 Hyundai team will offer the Fuel Cell vehicle with additional gadgets: HomeLink connectivity, digital compass and two additional color options.
Furthermore, the Tucson Fuel Cell customers will be granted with an advanced electric vehicle, that produces its own electricity from hydrogen. Future is here, ha! As you know, hyundai has developed the Fuel Cell technology to alleviate some of the traditional battery powered vehicles. The Tucson Fuel Cell is a really flexible vehicle, that anyone can use for his daily needs, when it comes to personal transport.
SEE ALSO: Hyundai ix35 is the First Mass Produced Fuel Cell EV
As you know, the benefits of hydrogen fuel are numerous and already well-known: the fuel can be produced from numerous sources, including directly from water sources. And in addition, this is one of the cleanest fuels, that is almost 100 per cent environmentally friendly.
And in addition to the good news, California approved a plan to develop numerous hydrogen refuel stations, that will be built in the next several years. Furthermore, the prices of the fuel will go down, so it won't be that expensive.
The Fuel Cell technology is really a masterpiece, that can already replace the traditional battery packs from vehicles and it is expected to be one of the main energy sources for vehicles in the near future.
Source: Hyundai