Infiniti FX Vettel Edition To Be Shown At Goodwood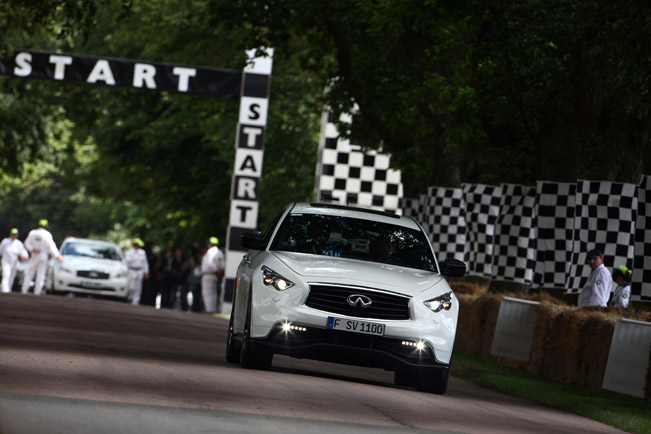 Infiniti FX Vettel Edition is going to make a dynamic debut at Goodwood Festival of Speed next to its stportier sibling - the Q50 Eau Rouge Prototype. There will be available test drives up the Goodwood Hill during the Moving Motorshow and in addition the new Q50, Q70, QX70 and Q60 convertible will be on display. Precisely, the test drives will happen a day before the start of the show – this Friday on 27th of June. Even the brand new Infiniti Q50, in both hybrid and diesel forms, will be available for drives and will run throughout the day.
Another exciting car, which will be on display as well as available for test drives, is Sebastian Vettel-inspired SUV in the form of the Infiniti FX Vettel Edition. With the start of the Festival the SUV next to the Q50 Eau Rouge Prototype will make their debut. The latter has the capacity of producing 568 hp due to its powerful V6 twin-turbo engine.
At the helm on Saturday will be Christian Horner from Infiniti Red Bull Racing Team and at other times it will be handed over to Infiniti Red Bull Racing's Test and Reserve Driver Sébastien Buemi. Both drivers will also be available on the Infiniti hospitality stand for a question and answer session regarding the Formula One season.
Furthermore, in the Goodwood House Infiniti will be displaying the majority of the brands premium model line up. For instance, the new mid-sized Q50 saloon will be there sitting alongside its larger version known as the Q70. The QX70 will provide more distinctive look for an SUV, while the Q60 Convertible - more open air feel.
And if you happen to be in the vicinity of Goodwood festival and want to go for a test drive, the booking should happen on Thursday, 26th June, at Infiniti booth at the Moving Motorshow.
Source: Infiniti