Infiniti JX [teaser]
Infiniti has teased the new JX model, which is expected to hit the market in spring 2012 as a 2013 model. The vehicle is a luxury crossover, which features dynamic and elegant line treatments inspired by nature.
"The all-new Infiniti JX crossover will allow us to continue to expand the Infiniti brand's presence in the Americas," commented Carlos Tavares, chairman, Nissan Americas.
"In 2010, Infiniti was one of the fastest-growing luxury brands in the United States, and this year we will expand our presence further to Mexico and Panama, followed by Chile in the first half of 2012.", said Mr. Tavares.
"There aren't a lot of choices for luxury families today. The all-new Infiniti JX is the 7-passenger antidote to the ho-hum luxury crossovers that are out there right now," added Ben Poore, vice president of Infiniti Americas.
"The Infiniti JX will have a stunning interior, while offering exceptional seating flexibility, easy access to the roomy third row, plus the latest in-vehicle technology – including next-generation telematics. A fitting addition to our line, it will challenge the status quo in its class.", finished Ben Poore.
However, the company didn't release any further information of technical characteristics of JX. Still, the official debut of the model will be at the Pebble Beach Concours d'Elegance in August, this year and the production version is expected to be exhibited at the 2011 LA Auto Show in November.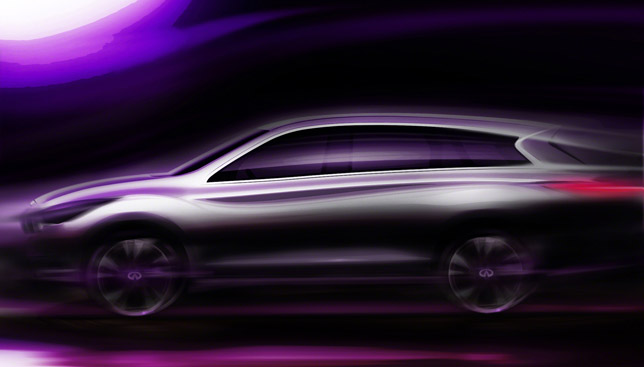 Source: Infiniti