KTW Tuning Enhance The Porsche 991 Carrera S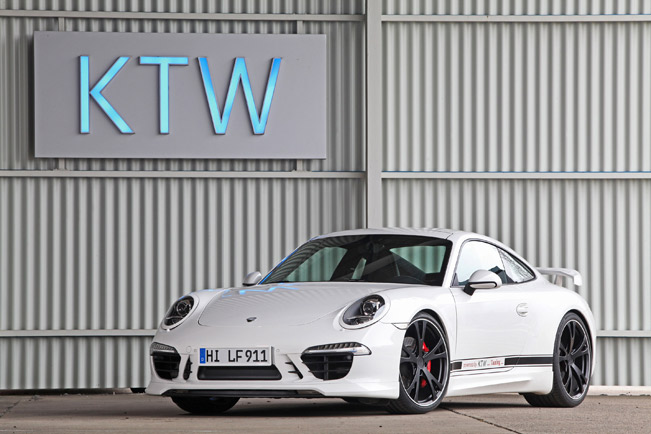 The Porsche 991 (AKA the 911) – fifty years of history, pedigree and fine-tuning. Can it ever reach perfection? Is there such a thing as perfection? Okay, let's not get too philosophical about it. After all, what's good and what's bad and what's perfect is a very subjective point. That explains why KTW from Germany have taken up enhancing the Porsche Carrera S 991.
Rest assured, the Porsche's 3.8-liter 400 hp has been left immaculate. In fact, all KTW did was to get their hands on a TECHART body kit and glue it on. In other words, a front lip spoiler, two side skirts, two wing mirror caps, a rear lip-like spoiler and a big anti-wing on top. Okey so there are also the Formula III 21-inch wheels which complete the picture .
Again a TECHART feature, is the noselift system which is supposed to eliminate that fear of scraping a speed hump. There's also a custom made exhaust system with valve control.
KTW say that the interior too has undergone a lot of changes – the steering wheel, the seats, the dashboard, the center console and many other. There is, however, nothing specific on these modifications. The seatbelts are red. Does that count?
Source: KTW Tuning