SpeedART SP91-R Porsche 991 Carrera
News from the German tuner house SpeedART. It's an update on their SP91-R project. As we all know by now, the subject is the latest 911/991 Carrera S (Porsche is sort of their turf) – fresh yet grunty, slippery and stylish it has all there is to have when it comes to performance customization.
When it comes to power, ECU upgrades and calibration are to be available for both the Carrera and Carrera S engines – that means a projected power increase of 25 hp and 20 Nm. On the other hand. the sport exhaust system, complete with sport-catalysts and manifolds, seems to do the trick. One can fit an optional sound switch function so that, at the very least, people can be fooled into thinking that 911 is even meaner and leaner. The tailpipes come in several different versions so that the owner is presented with as much flexibility of choice as possible. Hardcore enthusiasts will most definitely prefer the Titanium sport exhaust system which reduces the overall weight.
The suspension can be both street or racetrack friendly. It will harbour sports springs and sports absorbers with adjustable rebound and height. A separate air-lift module on the other hand will provide some clearance for that dragging SP91-R body kit when passing over a speed hump.
Yes, there will be a full body overhaul – front lip spoilers, diffusers, side skirts, rear wings... the lot. Everything is made to fit perfectly and seamlessly to the standard mounts.
For a complete look, the Carrera rolls on a set of specially designed modular LSC- FORGED 21-inch wheels – again light and agile, great for the overall performance.
Inside, what e find particularity fresh is the lime shades. The blue, contrasting stitching and the diamond patterns it forms, might be a bit too much but everything else is spot on – leather/Alcantra on the seats, dashboard etc. It's a keeper.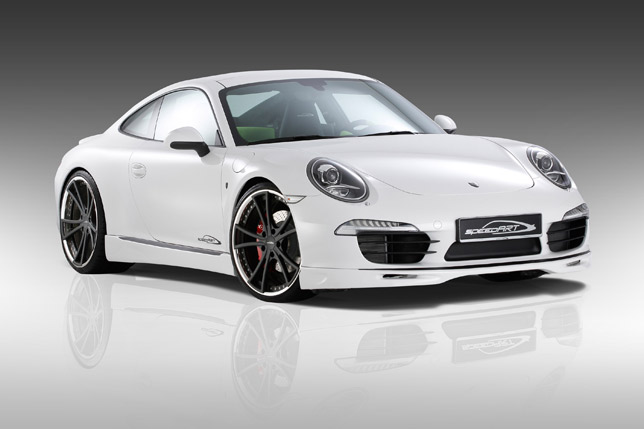 Source: SpeedART