Vorsteiner Porsche 911 Carrera S Runs Faster With V-FF 101 Wheels?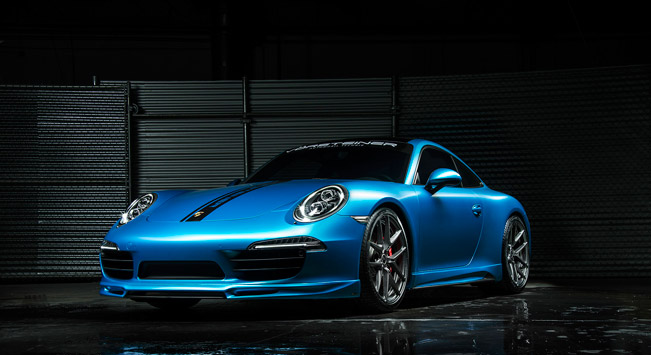 Although the latest Porsche 911 Carrera and Carrera S debuted more than two years ago they are still desired object for customization. This time the responsible for the tuning are the fellows at Vorsteiner – a Californian based tuning company with a rather German name. We see from the beautiful pictures they have sent us, that Porsche's original blue color is complemented by new wheels in very special color. In this way the car not only looks more sporty, but it definitely receives a shade of individuality.
Precisely, the most recent photo shoot that the company has made highlights the new V-FF 101 Flow Forged Wheels. They are lightweight and were specifically developed for the Porsche 991 Carrera S.
The eye-catching color of the wheels is called Carbon Graphit, while their dimensions are 20x8.5 at the front and 20x11 at the rear. Vorsteiner has used Standard Profile on the front and Concave Profile for the rear in order to advantage of Porsche's original tire sizes. This means that the 245/35/20 tires at the front and 295/30/20 Pirelli tires at the rear are are rub-free even after a moderate drop.
2012 Porsche 911 Carrera is motivated by the 350-horsepower (261 kW) coming from the 3.4-liter boxer engine. On the other hand the Carrera S delivers 400 hp (298 kW) from 3.8-liter boxer engine. The acceleration time for the first from 0 to 100 km/h is estimated at 4.4 seconds, while the Carrera S covers this sprint in just 4.1 seconds.
The time for acceleration is further reduced to 3.9 seconds when 911 is equipped with the Sports Chrono Package Plus. Top-track-speeds for the 911 Carrera and Carrera S are 179 mph (288 km/h) and 188 mph (303 km/h), respectively.
Source: Vorsteiner