Manhart Show Off The MH6 700 BMW M6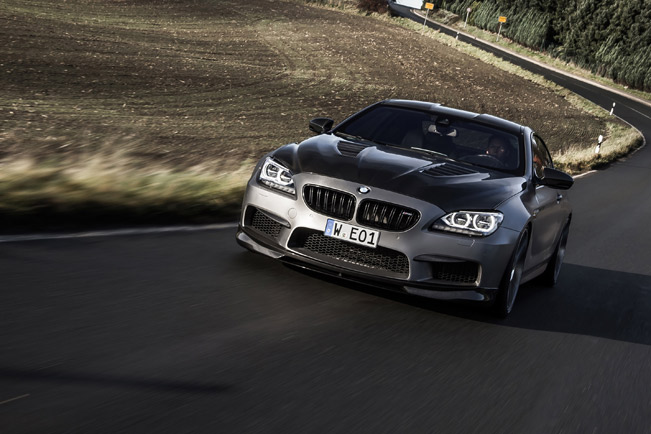 Manhart have finally unveiled their MH6 700 BMW M6. It has been out, actually, ever since the 46th Essen Motor Show opened its doors earlier this month. Funny how some manage to slip under the radar.
The M6's original 4.4-liter V8 with its 560 hp is in no way a slouch, but Manhart have gone the extra... several miles and amped the power up to 734 hp (because who cares about consistent naming, MH6 700?) and 953 Nm. Essentially, that means ECU tweaking, a carbon-air-intake-system and a completely new exhaust system with downpipes, sports catalytic converters and rear silencers with 100-millimeter end-pipes. Manhart say that the end result is a BMW so powerful that it is actually hard to estimate a 0 to 60 time since there's little to no grip off the line. We don't know how that's a plus. Acceleration from 60 to 120 gets done in 6.3 seconds though. The top speed stands at 199 mph.
In an attempt to tame all that power, Manhart have provided a compression- and rebound-adjustable KW coilover kit. The massive Michelin Pilot Super Sport tires - measuring 265/30ZR21 at the front and 305/25ZR21 at the back - should be of help as well.
The visual treat that is the MH6 700 M6 is courtesy to the company's Concave ONE wheels. You may have noticed that there's also a front spoiler, a new engine hood with big vents on it, a diffusor at the back and a trunk-lid spoiler. Every bit of that kit is carbon fiber. This specific vehicle has a very subtle Manhart "seal of approval" so to speak on each of its sides. It's an embossing effect on the full-body aluminum metallic wrap.
Source: Manhart Racing