Mansory Carbonado based on Lamborghini Aventador LP700-4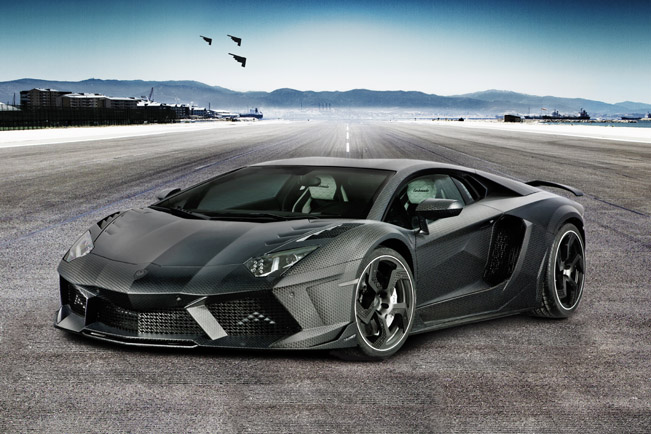 Mansory will exhibit another interesting sports car at the 2013 Geneva Motor Show. They will present a tuned Lamborghini Aventador LP700-4. The name of the project is Carbonado and you can see why? Carbon fibre everywhere the eye can see.
The exterior boasts MANSORY aerodynamic package including a striking front skirt with optimised air intakes for improved ventilation of the front radiator. There is also a new front lip spoiler and the proprietary developed daytime running lights, a front wing as well as a new bonnet.
The sides have grown by 40 mm on the front and by a remarkable 50 mm on the rear axle in width. Newly designed side skirts are also fitted. These steady the air flow between the axles and feed additional cooling air into the drive unit and the rear braking system through integrated routing channels.
The diffuser built into the new rear spoiler stabilises the rear at high speeds and creates surface contact pressure together with the enlarged rear wing on the rear axle.
The 6.5 liter V12 engine received two turbochargers and the result is sensational. The car now has 1250HP (920 kW). 0-100 km/h in 2.6 seconds and a top speed of 380 km/h (236 mph).
In order to get some traction, the car has 9.0J x 20" front wheels and 13.0J x 21" rears with Pirelli P ZERO tyres in VA 255/30 ZR20 and HA 345/25 ZR21 sizes, respectively.
The Lamborghini refinement program finds a perfect fulfilment in the extensiveinterior applications. Naturally only the finest of materials are used. The processed leather used for the seats as well as the dashboard is particularly durable yet still extraordinarily soft.
To accent the character of the CARBONADO interior even more non-slip aluminium pedals as well as genuine carbon fibre components are us ed on the doors, the fittingsand the centre console. The newly positioned starter button presents one of the technical highlights of the interior. In the style of an aircraft cockpit switch Mansory has relocated this red switch from the centre console to the roof lining.
Source: Mansory