Sky blue carbon fiber Mercedes-Benz G500 is one of the best vehicles you'll see this summer  

MANSORY releases one-off Mercedes-Benz G500 customization
We absolutely love MANSORY and it is needless to say we do love the G-Class, too. But what happens when a tuning company like this puts all of its efforts on a G500? Miracles maybe? To answer the question we are going to talk about the latest MANSORY project, which involves the aforementioned Mercedes model.
Being one of the most noticeable vehicles on the road, the Mercedes G500 4x4 has been made even more dramatic in its appearance. The tuning experts took as a starting point the wide, flared wheel arches and additional height of the off-roader, and built their ideas on top of these innate qualities of the G-Class.
SEE ALSO: MANSORY Unveiled the One and Only Carbon Beast
Carbon fibre has been used as far as the eye can see. Literally. Just take a look at the new front spoiler with LED headlights and the new hood made from visible carbon fibre. In addition, the flanks of the off-roader are beautified with air intakes on the front wheel arches, mirror housings, handles and trim. They are also made of the lightweight material as are the roof and roof spoiler, the rear apron and panels.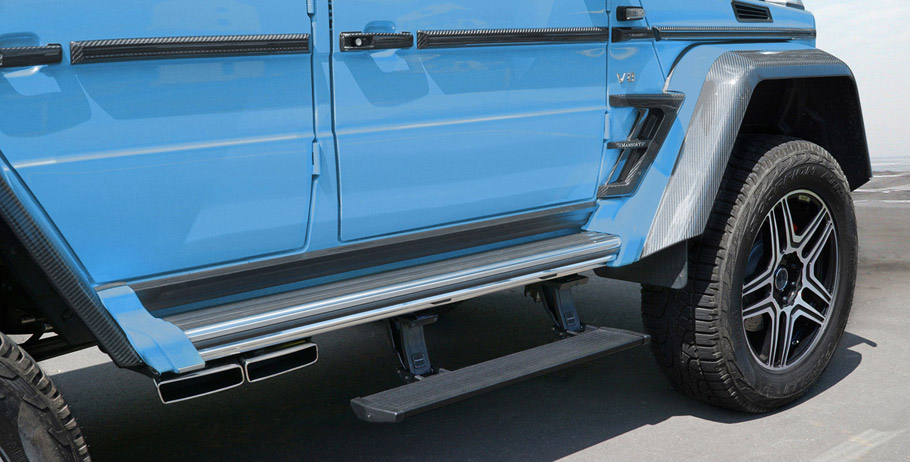 One of the very cool enhancements that the designers have added here is a step, which automatically extends to help the person entering the vehicle climb into its cockpit, so that he or she could see the unmatched interior treatment.
Basically, the cabin features everything that one needs to feel their selves in a luxurious and at the same time sports environment. Precisely, the sports steering wheel, which features a carbon inlay, was designed specifically for the 4x4. Below the waistline, there have been added aluminium pedals, evoking that feeling of driving a sports-car.
The luxury part is played by the entirely renewed interior. Almost everything was reupholstered and masterfully created by hand from leather and cutting edge carbon fabric. The changes are topped off by logos, decorative stitching and beading. Of course – in the color of the vehicle.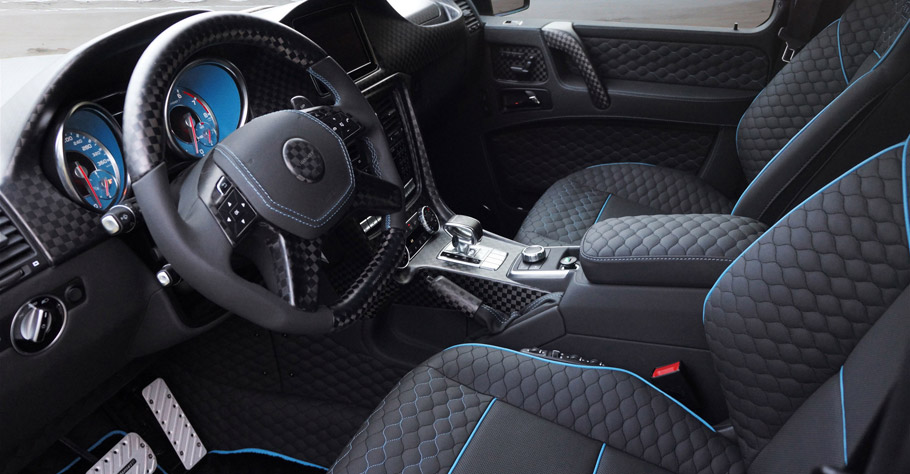 But it was not just the bodywork. MANSORY has installed its Powerbox and additionally supported it with a sport exhaust system. The extra power given to the G500 is 47 kW (63 PS) as well as 100 Newton meters of torque.
The abundant carbon fiber treatment inside and out, as well as the performance changes, make the G500 one of our favorite projects this summer.
Source: MANSORY