Mazda CX-4 Crossover SUV Finally Revealed in Beijing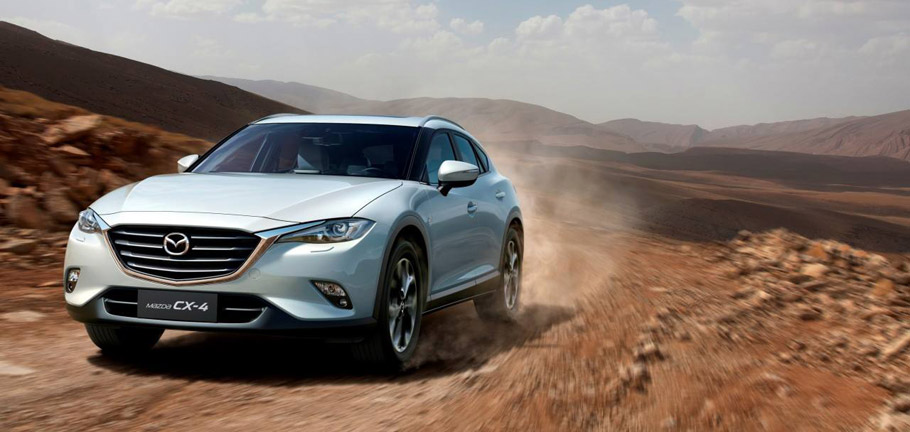 Mazda has finally unleashed its strongly anticipated SUV: the Mazda CX-4 Crossover at the Beijing Motor Show today. With its sexy proportions and visual appearance, the latest addition to Japanese's company's new-generation lineup, has been gathering glances and praises at the event. Of course, the attractive vehicle incorporates the newest SKYACTIV TECHNOLOGY and KODO—Soul of Motion design.
The goal of the CX-4 is to exceed existing categories and stereotypes with its dynamic design, planted stance and sleek, coupe-like cabin. This also gives the model an outstanding presence. Other features to be are the exceptional functionality and user-friendliness of the technology gadgets, as well as the comfortability of the cabin.
SEE ALSO: Mazda CX-4 is an SUV We Want (in the USA & Europe) but We Won't Have and This is Why 
Beneficial is also the SUV-like ground clearance and the all-wheel drive powertrain under the hood. Speaking of which, it is Mazda's i-ACTIV AWD gasoline engine, which is responsible fro the fantastic fuel consumption measured as low as 6.3 liters per 100 km.
The all-wheel drive capability of the CX-4 is ready to tackle almost any road condition. By the way, its outstanding environmental and safety performance characteristics are due to the Sustainable Zoom-Zoom and a Jinba-ittai driving feel. The excellent handling on the other hand is due to thanks the low center of gravity.
Mazda CX-4 is actually brand's fourth new-generation model in China. It is obvious (judging by VW T-Prime Concept GTE and Renault KOLEOS) that the demand for SUVs in the country is extremely strong, and this is why Mazda is expecting to make a big furor with the CX-4 and expand the brand in this market.
Mazda CX-4 SUV will go on sale in China this June. Here are the specifications of the model:
Overall length
mm
4,633
Overall width
mm
1,840
Overall height
mm
1,535
1,530
1,535
Wheelbase
mm
2,700
Ground clearance
mm
197
196
194
Drive system
FWD
i-ACTIV-AWD
Engine
SKYACTIV-G 2.0 (2.0-liter gasoline)
SKYACTIV-G 2.5 (2.5-liter gasoline)
Transmission
SKYACTIV-MT (6-speed manual)
SKYACTIV-DRIVE (6-speed automatic)
Fuel consumption (combined)*4
liters/ 100km
6.4
6.3
7.2
Suspension type (front/rear)
MacPherson strut/multi-link
Steering
Rack and pinion
Brake type (front/rear)
Ventilated discs/solid discs
Tires
225/65R17
225/55R19
Equipment
i-ACTIVSENSE advanced safety technologies, MZD Connect car connectivity system, auto-hold function, etc.
Source: Mazda