Mcchip-Dkr Porsche Panamera Diesel with power upgrade
Another tuning for Panamera today. This time it is delivered by the specialists from Mcchip-Dkr, who have enhanced a Porsche Panamera Diesel model. Tha latter has only 250 horsepower generated from the strong 3.0 litre V6 Common Rail Turbo-Diesel Engine.
Obviously this wasn't enough for the tuners, who specialize in particular in software optimization and chip tuning. Via targeted manipulations of the engine characteristics, the electronic experts achieved a boost in the performance.
As a result, the diesel engine now generates 285 horsepower, developed at 3,900 rotations per minute. The maximum torque now is 600 Newton meter, achieved at 1,850 rotations per minute.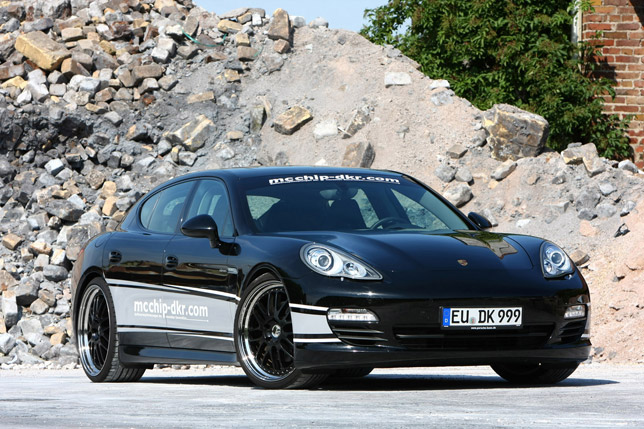 Another important effect of the improvements made is that the Porsche now sprints about half-a-second faster from 0 to 100 km/h than its serial counterpart. Maximum speed is boosted uo to the number of 246 km/h.
Enhancements in the lateral dynamics have been made as well. In order to increase longitudinal dynamics, mcchip-dkr also installed a set of performance springs from H&R. Their purpose is to lower the big Porsche with 30 millimetres.
To round up the spory stance of the Panamera, the three-part cargraphic rims of the sizes 9x22 and 10.5x22 inches were included. In fact, they were soled with the Dunlop Sport Maxx GT high-performance tires of the dimensions 265/30R22 in front and 295/25R22 in the rear.
Source: mcchip-dkr