MTM Squeezes Extra 60 HP From Audi S3 2.0 TFSI quattro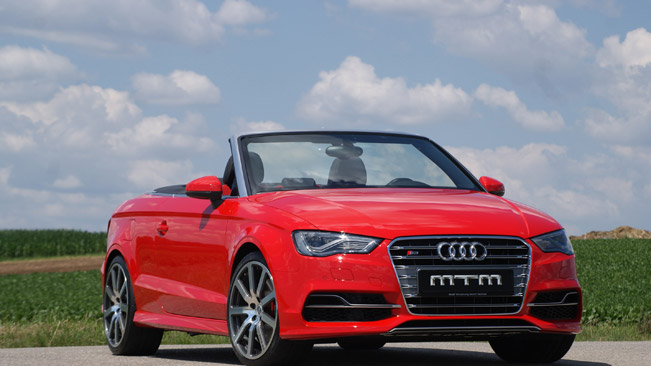 MTM tuning company is mainly famous with the power enhancements that it makes. Being German based, MTM is favoring mostly locally created vehicles. In fact, the philosophy of the tuners is not to leave a single car exiting their performance centre without being sportier and superior. Such is the case with its latest project which involves the Audi S3 2.0 TFSI quattro, be it a Cabriolet, Saloon or Sportback. The brand new 2.0-liter TFSI engine hidden under the aluminum hood of the Audi includes direct and indirect injection, clever thermal management and exhaust manifold integration.
The standard figures of the powertrain are 296 hp (218 kW) at 5,500 rpm and torque of 350 Nm (258 lb-ft) starting at 1,800 rpm. The unit is coupled with a six-speed manual gearbox. The S3 Saloon is capable of reaching the 100 km/h from standstill in 4.9 second. The MTM mechanics tweaked the engine and now it responds powerfully to the new engine management system.
Precisely the new numbers speak for themselves: the output has been raised up to 360 hp (265 kW), while the torque – up to 450 Nm (332 lb-ft). The result is a decrease in 0-100 km/h time sprint, which MTM unfortunately did not disclose. The top speed was increased up to 250 km/h.
Next, MTM added to the S3 new four-pipe stainless steel exhaust system that delivers sonorous sound. In addition, to decelerate the vehicle appropriately from 250 km/h, MTM installed brake system measuring 380x34 mm on the front axle.
There are several options of the wheels and rims for the S3: Nardo edition rims or Bimoto wheels. The dimensions are also selectable, starting from 8x18 inches to 9x20 inches. The customizations specialists have also considered MTM performance suspensions, which ensure sporty superior swagger. The adjustable coilover suspension systems included were developed in collaboration with the professionals at KW.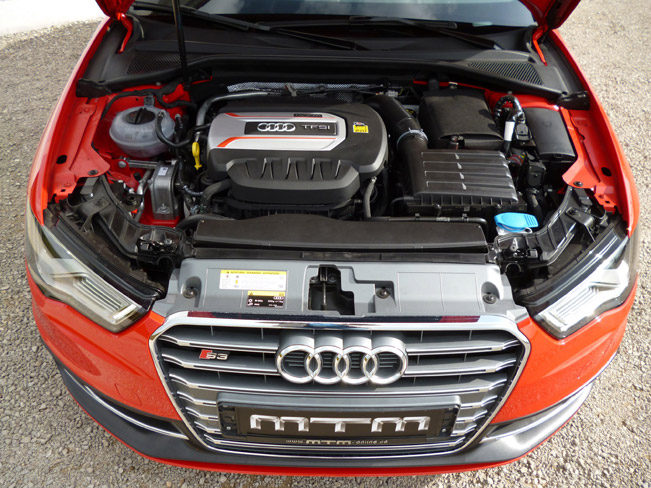 Source: MTM