New Passat Bluemotion 2 Featuring Stop/Start Now On Sale
The most efficient, economical and environmentally friendly Passat yet produced, the new BlueMotion 2, opens for ordering this week.
Building on the gains in efficiency made by the existing Passat BlueMotion, the new BlueMotion 2 features an automatic Stop/start system linked to a new 2.0-litre TDI 110 PS common rail diesel engine.  This replaces the outgoing 1.9-litre TDI 105 PS unit injector powerplant.
Based on a conventional Passat bodyshell the BlueMotion 2 features optimised aerodynamics through a 15 mm reduction in ride height and the adoption of a unique grille element and front bumper with the usual air intakes blanked-off and relocated to the underside of the vehicle in order to reduce aerodynamic drag.  Next, the new 2.0-litre common rail diesel engine features special electronic mapping to reduce the idle speed and optimise the engine for economy.  The five-speed manual gearbox is also heavily revised with new, longer ratios for third, fourth and fifth gears to reduce loading on the engine and improve efficiency.
Volkswagen was one of the first manufacturers to introduce a Stop/start system on the Golf Ecomatic back in 1994.  The system has been substantially developed and is now applied to the new Passat BlueMotion 2.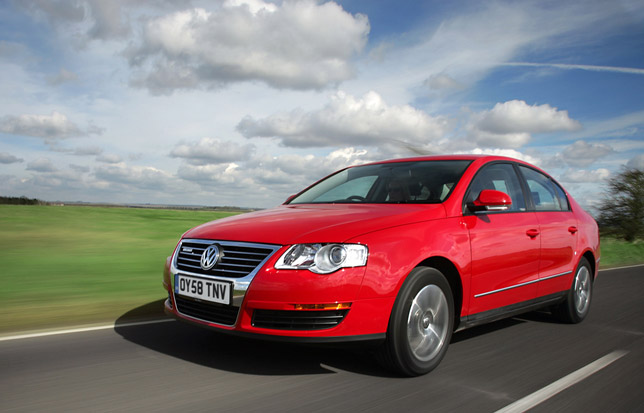 The automatic Stop/start system operates through the clutch.  For example, when coming to a halt at traffic lights the driver depresses the clutch and selects neutral. When the clutch is released the engine shuts down and a 'Stop/start' symbol illuminates on the multifunction display.  In order to move away the driver simply depresses the clutch one again to select first gear and the engine re-starts automatically.  Should the driver wish, the system can be deactivated through a switch located on the centre console.
The combined effect of the Stop/start and the adoption of the new 2.0-litre TDI common rail diesel engine serves to improve economy significantly and reduce emissions over the outgoing vehicle.
Economy on the Passat BlueMotion 2 rises from 55.4 mpg (55.3 mpg for the estate) to 57.6 mpg for the saloon and estate models.  Carbon dioxide emissions drop from 136 g/km (137 g/km for the estate) down to 128 g/km and 129 g/km respectively.
Available to order at Volkswagen Retailers from this week onwards, the new Passat BlueMotion 2 will cost from £17,700 for the saloon model and £18,835 for the estate – representing a rise of just £475 over the equivalent standard model.
Despite the keen focus on economy the Passat comes with an extensive list of standard equipment including alloy wheels with low rolling-resistance tyres, six airbags, ABS, Electronic Stabilisation Programme (ESP), a CD stereo, air conditioning and cruise control all standard.