Novitec Maserati GranCabrio MC Becomes Supercharged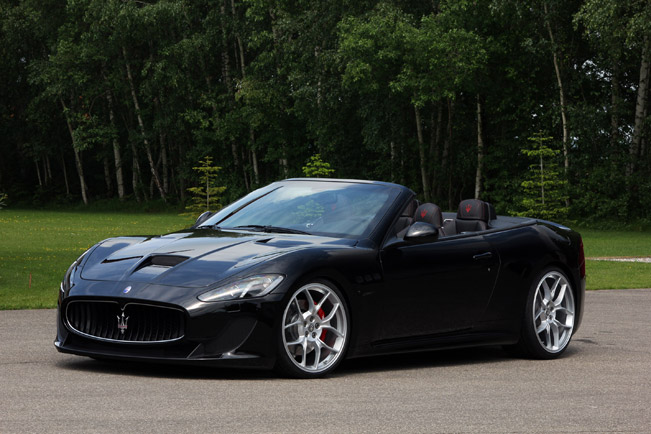 Novitec Maserati GranCabrio MC is now supercharged thanks to the engine enhancement done by the tuning specialists. Novitec Tridente improved the unit of this Maserati and it now generates 475 kW (646 hp) at 7,500 rpm and has a peak torque of 624 Nm (460 lb-ft) at 5,600 rpm.
Another result is that the tops speed of the car now exceeds 305 km/h. The tuned Maserati accelerates from rest to 100 km/h in just 3.9 seconds and to 200 km/h in a mere 11.4 seconds. The tuning program also includes high-tech forged wheels, a hydraulically height-adjustable coil-over suspension and exclusive interior options.
As a matter of fact, the supercharger conversion in the Maserati GranCabrio MC delivers excellent performance paired with durability and everyday suitability.The 4.7-liter eight-cylinder four-valve V8 engine drives the mechanical supercharger via a V-ribbed belt. The maximum boost pressure is limited to 0.43 bar.
In order to retain the temperature of the charge air as cool as possible, the tuning specialists have included a supercharger system with water-cooled intercooler. The katter has an operating temperature ensured by a separate cooling circuit with two heat exchangers.
In this conversion is also featured voluminous intake manifold, larger injectors and newly calibrated mapping for the engine electronics. The end effect of cours is no less than outstanding power.
Furthermore, Novitec has also included a new hood, which includes centrally positioned air. In order to optimize the venting of the engine compartment, the hoodwas was also equipped with big air outlets.
In addition, the exhaust system has been visually refined and comes with electronic sound management, two 105-mm tailpipes available with in black-coated or polished finish. The dynamic handling of the vehicle was also futher enhanced via tailor-made tire/wheel combinations.
This particular car runs on Novitec NM4 wheels with five delicate twin spokes. They are in dimensions of 9Jx21 and 12Jx22 for the front and rear respectively. The weels were matched to Pirelli PZero high-performance tires in sizes 255/30 ZR 21 and 315/25 ZR 22.
Furthermore, the tuners have equipped this cabrio with sports suspension, which was specifically calibrated to the high-performance tires. Moreover, it allows an adjustment of the dampers, thus delivering the desired ride height.
Source: Novitec Tridente