Novitec Rosso Ferrari FF with exclusive upgrade delivers 702 horsepower
Novitec Rosso Ferrari FF received enhancements by adding carbon-fiber aerodynamic-enhancement kit, ultra-light forged wheels and an extra 42 horsepower.
Novitec Rosso upgraded the Ferrari with sophisticated program, which comprises of sty stylish and aerodynamically efficient carbon-fiber bodywork components. Furthermore, the tuners have added ultra-light forged wheels with diameters of 21 and 22 inches.
In fact, htis performance kit boosts the power output of the V12 engine by 42 horsepower (30.9 kW).
The bodywork components are made from lightweight high-strength carbon fiber. This gives the sportsvehicle even more dynamic appearance.
And as you can see the Ferrarri now has a lower stance thanks to the front spoiler lip for the production bumper. The optimal aerodynamic balance is with a combination of roof and rear spoiler plus a diffuser.
Furthermore, the rear end is additionally transformed with an add-on component for the production fascia and carbon-fiber surrounds for the black taillights. The tuners have also included matching black side markers and LED rear fog lamps.
Even sportier look is conveyed by the new side skirts and carbon-fiber trim for the exterior mirrors. Carbon-fiber roof cladding and a carbon-fiber radiator grille add even more racing-flair highlights.
The Novitec Rosso suspension engineers have developed custom-tailored lightweight forged wheels. They received the NF4 wheel design with five delicate double spokes. The wheels at the front are 21-inch diameter and at the rear are 22 inches. Both are matched with Pirelli PZero high-performance tires. They additionally emphasize the wedge-shaped appearance.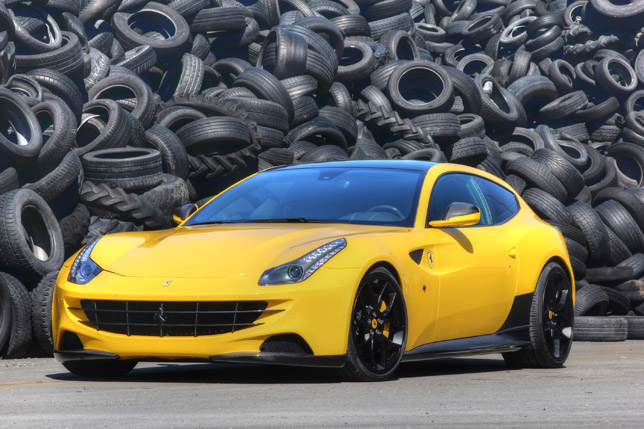 More importantly, the engine specialists have given more power to the Ferrari with the Novitec Rosso performance kit which boosts power output of the 6.3-liter 12-cylinder four-valve engine by an extra 42 hp (30.9 kW).
In particular, the conversion consists of newly calibrated engine electronics and a complete new stainless-steel high-performance exhaust system. The exhaust is also available in a version that features a butterfly valve actuated from the steering wheel.
In combination with the quad sport exhaust the custom-programmed mapping for ignition and injection plus a new higher redline speed of 8,200 rpm result in a performance of 702 horsepower (516.6 kW) at 8,200 rpm.
After the conversion the car has new tops speed of 340 km/h, which is five km/h faster than the production car.
The gear shifts are quicker and more precise thanks to the longer carbon-fiber shift paddles. They operate the seven speeds of the dual-clutch transmission of the Ferrari FF.
The interior of the car includes program which is destined to offer maximum level of individuality. The program provides countless options from carbon-fiber scuff plates to fully custom leather and Alcantara interiors. They are of course perfectly finished down to the last detail.
Source: Novitec Rosso