Oettinger Volkswagen Golf R - 400HP and 500Nm [video]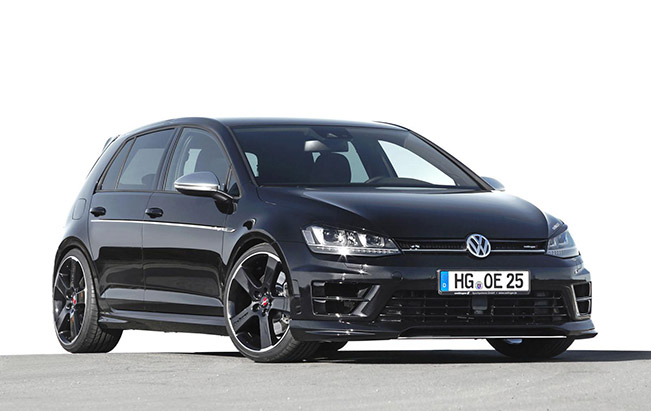 Oettinger has presented their latest tuning program for the ultra-hot hatchback Volkswagen Golf R. It comes with a lot of styling and performance upgrades and an impressive power boost.
The 2.0 liter four-cylinder TFSI engine is equipped with bigger turbocharger and improved ECU. The result is epic – 400HP (294 kW) and 500Nm (369 lb-ft) – an increase of 100HP and 120Nm. 0-100 km/h in under 4.0 seconds and a top speed of 280 km/h (174 mph) – electronically limited. The company offers softer versions with 360 (264 kW) or 380HP (279 kW).
Oettinger 2014 Volkswagen Golf R comes with a new front spoiler, a pair of modified side skirts and a tailgate-mounted spoiler. There is also a big brake system, a four-tailpipe sports exhaust system and sets of 19" or 20" alloy wheels fitted with ultra-low profile tires.
As is to be expected from Oettinger, the high end tuner from Friedrichsdorf, the Golf R body kit is manufactured in OEM standard high quality RIM.
The latest developments can be admired fort he first time at the Tuner GP in Hockenheim (23rd and 24th May) and then a few days later at the GTI meet at the Wörthersee.
Source: Oettinger