518HP Oettinger Volkswagen Golf R500 Unveiled at Wörthersee Meeting

This Oettinger Volkswagen Golf R500 has of course debuted at Wörthersee, where the biggest GTI meeting is currently happening. The car has a power to weight ratio of 2.83 kilograms per hp and incredible acceleration time. It can print from 0 to 100 km/h in only 3.4 seconds before hitting a top speed of more than 300 km/h. This is because of the intervention of the tuner that has literally given the Golf superpowers.
And these superpowers are rated at 518 hp (381 kW) coming from the modified five-cylinder engine that drives all four wheels. The car is nothing but a limited edition and rumors say that it will have an enormous price of around 150,000 euros. There will be soon other versions of the model, pumping out 600, 650 and 750 hp.
Exterior
First that has to be mentioned is that the car is based on the Golf R7 model and it is equipped with Oettinger's 500R Racing Design Package, thus growing with 100 millimeters. Precisely, the pack comprises of widened front apron with large air inlets and a carbon fiber splitter.
The front grille features a double-sided upper air-opening. On the hood we spot a vent for the engine compartment. The front fenders, the wheel arch ventilation, the carbon-flaps on the side skirts again are all eye-catching.
SEE ALSO: How About 400HP Golf and a TT at Wörthersee? This Time both from ABT Sportsline
At the back, the rear wheel arch gives the Golf a distinctive character. The same effect is achieved via the widened apron with her real-carbon diffuser, the central exhaust tailpipe and the powerful rear wing with aero-flaps.
Engine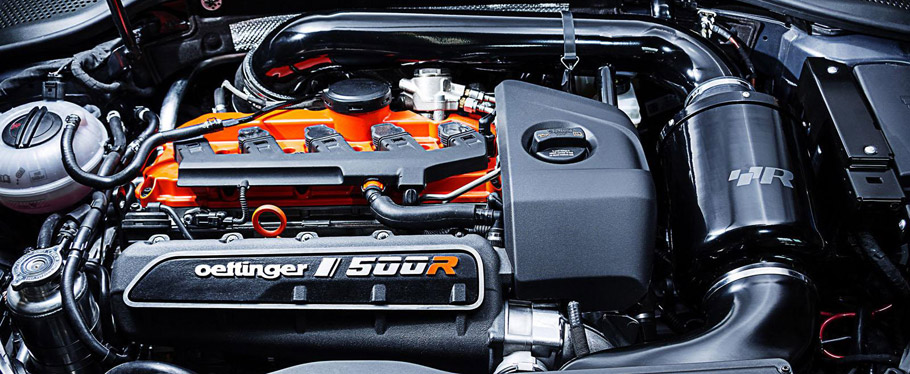 The 2.5 liter TFSI five-cylinder in-line engine received a turbocharger. There is also new water intercooling and revisions in the exhaust – the tuner added downpipe with sports catalysts and a double-flow cat-running racing exhaust system. Differential lock and clutch have been also adapted.
As a result the output has grown to 518 hp (381 kW), while the torque to 680 Nm (500 lb-ft). The engine is equipped with a six-speed manual transmission that is linked to the four wheels.
Wheels, Tires & Brakes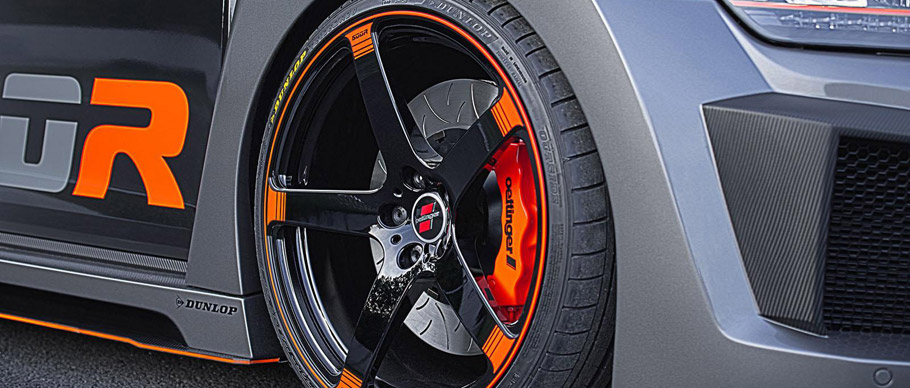 This unique car runs on 20-inch ATS forged wheels fitted with Dunlop Sport Maxx 275/25 R20 tires. In terms of suspension the Golf got three-way KW clubsport one with racing technology. Behind the alloys we see six-piston high-performance brake calipers and two-piece, perforated and internally ventilated brake discs with sports brake pads and steel flex brake pipes.
Interior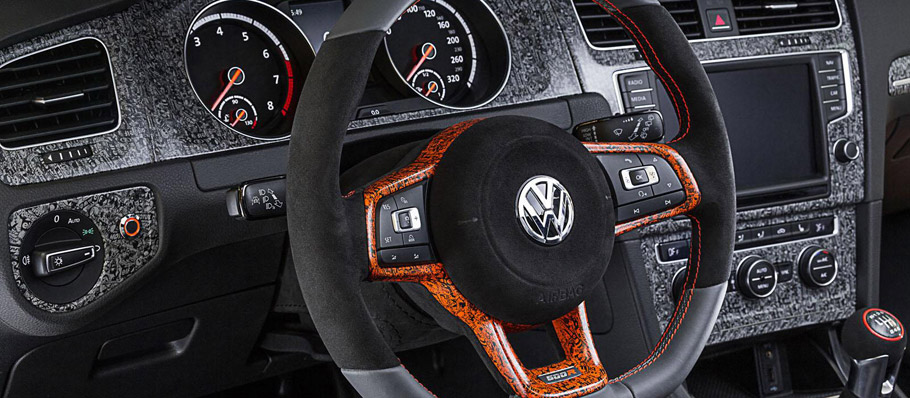 If you find the exterior extravagant, then you definitely have to take a look inside. It is sporty, individual and some might even say that it is strange. The cabin is upholstered in exclusive leather combined with black Alcantara on the center seat panels.
The decorative elements have been made more personal via contrasting orange color. The seats are of course racing bucket and feature integrated head restraints and harness slots. At last, wheel has been also changed with three-spoke sports leather one and the same material has been used for the door panels, rear seat and trunk cover.
Source: Oettinger