Opel Agila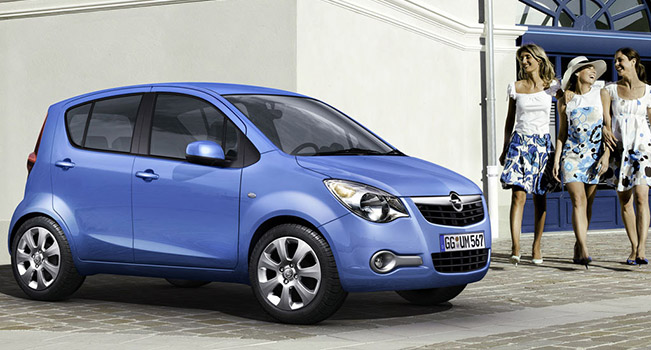 When it comes to the lifestyle of active women today, the watchword is balance. Job, fitness, shopping, meeting friends and getting around – a car makes everything easier to manage, and preferably one that is as versatile as its owner. This is precisely what designers and engineers had in mind when developing the latest generation Opel Agila. The result is a stylish urban car which is compact and maneuverable for tight parking spaces, yet boasts an interior that is spacious enough even for bulky sport and hobby gear. It also has enough seats to ensure comfort for family and friends.
Even with its compact length of 3.74 meters, the new Agila offers room for five occupants and provides them with easy entry through the four doors. The quality of the materials, a fresh interior and exterior color collection, versatile storage compartments and ample headroom project a feel-good ambience right from the word go. The enjoyable driving experience is enhanced by details such as the separate rev counter on the instrument panel, high placed gear stick and remote controls on the steering wheel for the radio.
The high seating position makes getting into and out of the Agila easier and ensures good visibility even in heavy urban traffic. The rear seat backs can be folded down at a flick of the wrist to create a completely flat load floor, with a compartment beneath providing additional storage space. In total, the Agila has a luggage capacity of more than 1100 liters accessible through its large trunk lid – the top figure in this segment. The new Agila also comes with a safety package comprising four airbags, as well as optional Electronic Stability Program (ESP) and head curtain airbags.
New engines with up to 86 hp (two lively gasoline engines and a top-of-the-line common-rail diesel for high pulling power) combine performance with low emissions. As an alternative to the standard manual transmission, an automatic gearbox is also available – a distinctive feature in this class. The second-generation Opel Agila makes its world premiere at the IAA Frankfurt (September 13 – 23, 2007) and will be available at dealerships as of next spring.
Opinions on new Agila
Hans Demant, Opel Managing Director: "The new Agila cuts a fine figure in all situations. Its agile chassis and lively engines make it fun to drive - with low consumption and CO2 levels."
Belinda Müller, Designer: "The boring days are over. Who says a nimble urban car can't also look cool? A wide selection of fresh colors and bold styles create an ambience that's enhanced even more by the spacious headroom."
Sara Nicholson, Opel European Marketing Manager: "The Agila, the new Baby-Opel, is a clever package of fun and versatility for the girl about town."