Opel Ampera to Debut at Rally Monte Carlo
The Car of the Year 2012 – Opel Ampera, will take part in one of the most exciting rallies this year - nmely Monte Carlo Alternative Energy Rally. This happens for the first time in Opel's history. The brand is providing award-winning electric car model for the prestigious international Rally Monte Carlo. Exactly six examples of Opel Ampera will make their debut in the "Alternative Energy" rally. The racing will take place in Annecy-le-Vieux, Clermont-Ferrand and Lugano on March 22 and will finish three days later in the capital of Monaco -Monte Carlo. The premise to take part in the rally is the following: the competing vehicles must have a maximum of 115g/km CO2 emissions. Te goal set for the racing is for the vehicles to cover a certain distance, maintain a constant speed and use as little energy as possible.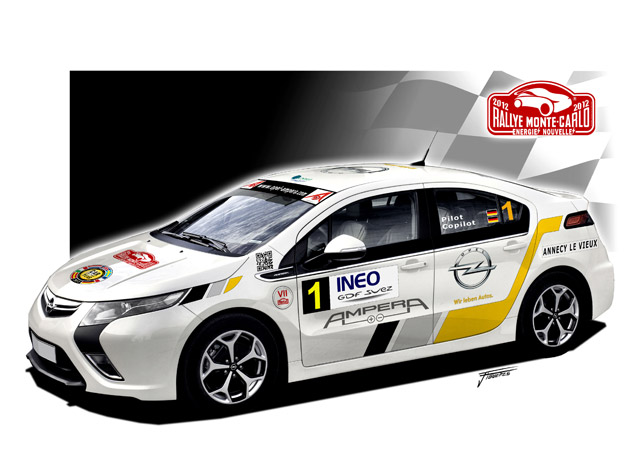 By taking participation, Opel is once again showing that it is a global leader in the field of e-mobility. In fact, the Opel Ampera is the first electric vehicle which can go anywhere anytime. What do I mean by that? Well, the vehicle has a 16 kWh lithium ion battery, which powers the 111kW/150 hp electric motor. The distance of between 40 and 80 kilometers can be easily covered in the purely battery-operated mode, depending on the style of driving and road conditions. Of course, you get conclusion that all driving will be completely free of emissions. Moreover, the wheels of the Ampera are always powered electrically. In extended-range mode, which activates whenever the battery has reached its minimum state of charge, the gasoline engine drives a generator that supplies the electric drive unit. Thus it is possible for the car to cover 500 km, thank to the range extender, which enables this operating radius. At last, being on the road, the Ampera's Voltec electric propulsion system provides torque of 370 Nm (273 lb-ft). This allows acceleration from 0 to 100 km/h in just 9 seconds and a top speed of 161 km/h.
Source: Opel