Performmaster Redefines Pure "E-nergy" with Custom Mercedes E63 AMG

Mercedes E63 AMG is definitely a car, which shows a lot of power, potential and performance capabilities, even without anyone working on it. However, it is also one of the most favorite cars of tuning companies. The newest example is Performmaster's variant of E63 AMG, which has received a special treatment for its engine. As the tuning company says: it redefines pure "E-nergy". And this perfectly describes the "E" letter of car's name, because in physics it stands for energy (in case you wonder).
SEE ALSO: Performmaster Mercedes-AMG C63 (S) Receives Significant Power Uprating 
By the way, the latest Mercedes E63 AMG has certainly a lot to offer. It produces 557 hp (410 kW) and 720 Nm (531 lb-ft) in both the Limo and the T-model. Even more, the factory S version pumps out 585 hp (430 kW) and 800 Nm (590 lb-ft).
The PEC Tuning-Module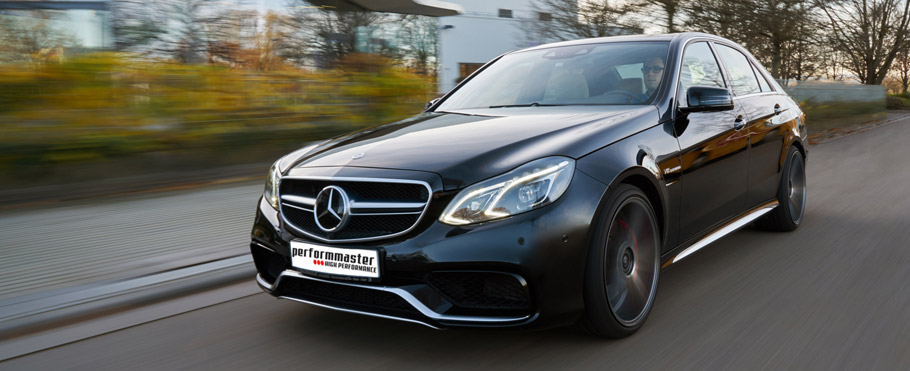 This is exactly where Performmaster stepped in with the purest intention of giving more to the already powerful output of the E-class. This wouldn't have happened without the use of PEC Tuning-Module, which has upgraded the initial force of the E63 to 702 hp (516 kW) and 1,000 Nm (738 lb-ft).
The Comparison
If we have to compare the new performance numbers with those of the production car, then I will make the math for you and immediately tell you that this is an increase of 145 hp (106 kW) and 280 Nm (207 lb-ft). But this is not all. The tuners decided to 'add' to the top speed too. The PEC Tuning-Module's USP is the fully integrated V-max neutralization, thus raising the Vmax from 250 to 320 km/h.
In other words, this car will take you where only super sports cars could go.
Source: Performmaster