2014 Vorsteiner Mercedes-Benz E63 AMG S 4Matic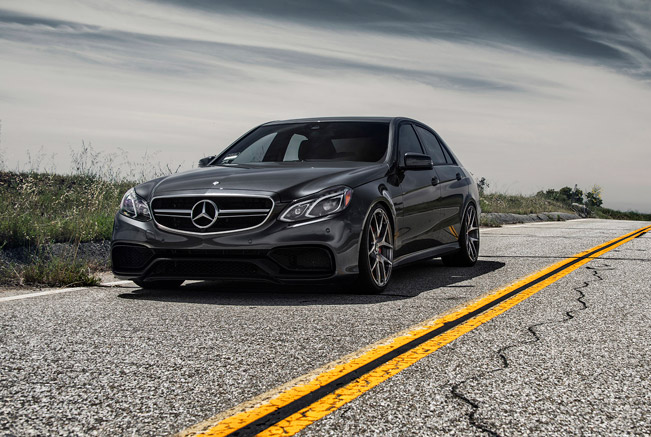 2014 Vorsteiner Mercedes-Benz E63 AMG S 4Matic effortlessly shows its powerful presence on the road. The tuning company based in California enhanced the sporty appearance of this E63 AMG S model with a new suspension and set of beautiful wheels. The outgoing Mercedes-Benz E63 AMG is the second version of the W220 E-class. At first, it was launched in 2009 with a naturally aspirated 6.2-liter V-8 engine.
Two years later, the German luxury company changed the powerplant to a 518 hp (380 kW) 5.5-liter twin-turbo V8, which in addition was available with an optional Performance package that upgraded the power to 550 hp (405 kW).
For this year, Mercedes-Benz updated the engine again. As a standard engine, the car got the 5.5 liter twin-turbo V8 with 550 hp (405 kW) and 719 Nm (531 lb-ft) of maximum torque. The S version, enhanced with the AMG Performance Package, is capable of the remarkable 577 hp (425 kW) and 754 Nm (556 lb-ft).
The additional 26 horsepower were achieved via tweaks to the engine-management system as well as increased peak injection pressure and boost pressure. In other words, this is the most horsepower that the E63 has ever gotten.
The top speed in the S model was also raised and is now up to 186 mph (300 km/h) in comparison to the standard 155 mph (250 km/h). The acceleration sprint from 0 to 100 km/h is estimated at 3.6 seconds.
And this powerful basis was used by Vorsteiner. The tuners have given this unique model a set of Sport Challenge Forged Edition VSC-101 wheels finished in Gloss Brushed Shadow. E63 AMG features an electronically controlled adaptive sport suspension, which allows the ride height to descend effortlessly.
This showcases the custom 20" forged monoblock wheels. Precisely, at the front they measure 20x8.5", while at the rear - 20x10". Of course, they were fitted with the appropriate Hankook Ventus V12 Evo tyres in the size of 255/30/20 and 295/25/20 at the front and rear, respectively.
Source: Vorsteiner