Vorsteiner Releases Aero Program for Mercedes-Benz E63 AMG

Vorsteiner has finally released their latest project and first for the 2016 year. It is based on the strong and beautiful Mercedes-Benz E63 AMG, which was recently updated by Mercedes in terms of visuals, but also in terms of power and torque. As a matter of fact, the latest Mercedes E63 AMG has a lot to offer with its 557 hp (410 kW) and 720 Nm (531 lb-ft) in both the Limo and the T-model. What is more, the factory S version, enhanced with the AMG Performance Package,  pumps out above 585 hp (430 kW) and 800 Nm (590 lb-ft).
The additional 26 horsepower are due to changes to the engine-management system as well as increased peak injection and boost pressure. In other words, this is the most horsepower that the E63 has ever gotten! The top speed of the E63 AMG was also uplifted and is now up to 186 mph (300 km/h) in comparison to the standard 155 mph (250 km/h). The acceleration time for the sprint from 0 to 100 km/h is achieved at 3.6 seconds.
SEE ALSO: Vorsteiner Novara Huracan Promises to Bring the New Era of Tuning 
Stepping over the already enhanced horsepower, the tuners at Vorsteiner have created a special VBR E63 AMG Aero Program. Basis for the making of this car was the perfection and function inspired art. And we can say that these key goals were ultimately achieved throughout. The carbon fiber aftermarket customization accentuates car's performance oriented nature and it also maintains the style and luxury of the E-Class.
The VBR Aero Kit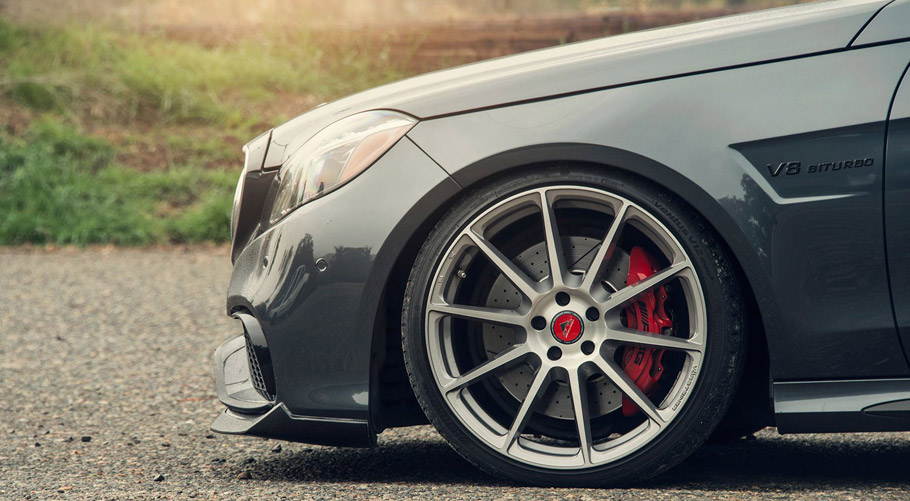 The kit comprises of a front aero spoiler and a rear aero diffuser. The first one was created to underline the front of the E63 AMG, making it even more sleek and classy. In addition, the spoiler was also designed to deliver performance and airflow dedicated aesthetic update.
Next, the VBR rear aero diffuser accentuates the back of the E63 AMG. The new carbon diffuser not only improves the downforce, but also produces better airflow and contributes for more aggressive note at the tail side of the vehicle.
Vorsteiner V-FF 102 Alloys
At last, rounding out this tuning are the in-house made V-FF 102 Flow Forged wheels, which measure 20×9 and 20×10 inches at the front and rear, respectively. By the way, the alloys feature Brushed finish that even further emphasize the exclusive exterior. They give the Mercedes a perfect and sleek finishing touch.
Source: Vorsteiner