Porsche and the Fairytale for 2017 911 Turbo Models

Porsche will make a powerful start in 2016 when the 2017 911 Turbo and 911 Turbo S models will be unveiled at the North American International Auto Show in Detroit in January. The vehicles will be offered in coupe and convertible body style and will feature sharper and more aggressive design, enhanced driving capabilities and extended list of standard equipment. The 911 Turbo will be geared with a 3.8-liter twin-turbo six-cylinder power unit that produces a total of 540hp (397kW), whereas 911 Turbo S will produce 580hp (426kW) and will further benefit from turbochargers with larger impelle. The meaning of all these numbers is that they contribute to incredible 0 to 100km/h (62mph) acceleration: 911 Turbo S finishes the sprint in 2.8 seconds and has a top speed of 369km/h (205mph), while 911 Turbo offers  2.9 seconds and top speed of 356km/h (198mph).
In fact, the engines also offer a dynamic boost function that improves throttle response during more aggressive driving. What it does is to maintain the boost pressure during load changes which results on better engine responds and enhanced engine flexibility.
Bold and sharp design

The new generation of 911 Turbo models come with restyled front air blades and narrow LED front lights with double fillets. There are new door handles without recess covers, while the rear fascia has also received some attention: it proudly demonstrates three-dimensional lights with four-point brake lights and aura-like illumination. The models also feature dual tailpipes and exhaust tips. And the sporty, yet beautiful exterior affair is finished with stylish 20-inch wheels with seven double spokes.
Additional equipment
SEE ALSO: The Rebel Awakens. Watch the Latest Video of Porsche Cayman GT4 Clubsport
The well-known Sport Chrono Pack is now a standard feature for the 2017 editions. It offers some drivetrain tweaks, enhances the driving dynamics and can be used to change the driving character of the vehicle in four ways: Normal, Sport, Sport Plus and Individual. Another cool feature is the Sport Response button. When it is pressed, it preconditions the engine and gearbox and offers some boosted performance for up to 20 seconds.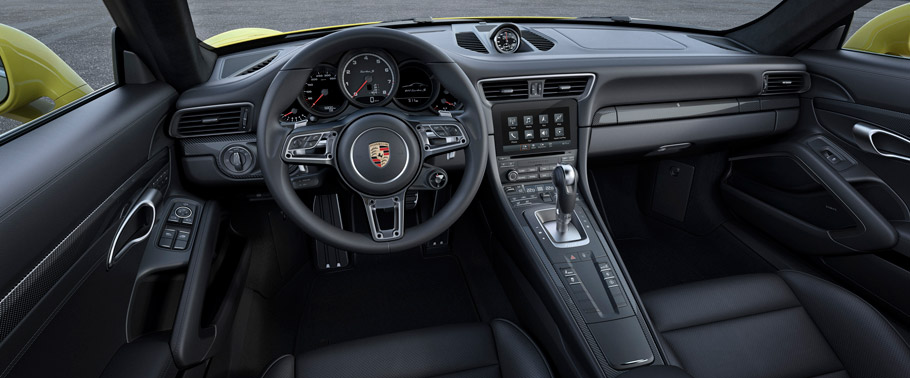 And as we talk about performance, we must mention the PASM feature that delivers even better balance between performance and comfort. Furthermore, 911 Turbo S offers a full array of performance gadgets like the active roll stabilization program and Porsche Composite Ceramic Brake. The vehicles will also benefit from Park Assist front and rear cameras, LED headlights, 18-way Adaptive Sport Seats Plus, two-tone leather interior and carbon-fiber elements.
It gets better and better, right? I wonder, what do you think about Porsche's 2017 models?
Source: Porsche