Porsche 911 Turbo Mk2 vs Lamborghini Gallardo LP560 and Chevrolet Corvette Z06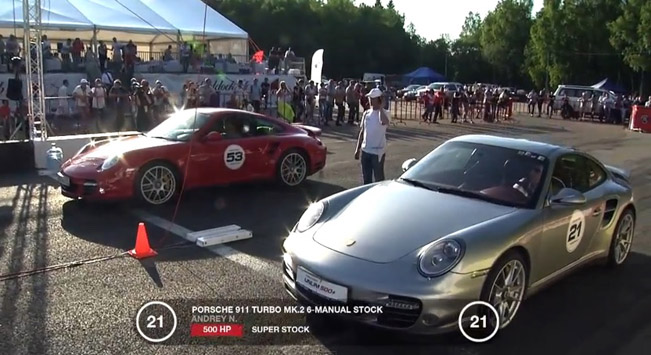 More drag racing, but this time with stock sport cars – Porsche 911 Turbo Mk2 6-speed manual with 500HP against Chevrolet Corvette Z06 with 505HP and Lamborghini Gallardo LP560-4 with 560HP.
In the first start, the 911 Turbo owned the Z06. The Porsche finished in 29.289 seconds with 281 km/h and set personal absolute record on ¼ mile – 11.625 seconds with 197 km/h.
The second start was also owned by the Porsche. It crossed the 1 mile mark in 29.341 seconds with terminal speed of 281 km/h, while the Gallardo needed 30.712 seconds.
The third start was free, but the Porsche 911 Turbo Mk2 set personal absolute record on 1 mile – 29.231 seconds with 282 km/h. Andrey N. behind the steering wheel is winner of 2nd place in Super Stock Class 2013.
Enjoy!
Source: Dragtimesinfo